Friday September 11, 2009

Back at Home!


We arrived home today, after staying last night in Massey and the night before in Lake Superior Provincial Park. It's nice to be back home, but enjoyed the trip to Alaska.
Some trip stats:


Total mileage on trip: 17,096 km.
Fuel economy: 14.76 mi./imp gallon ( best ever!)
Fuel used: 3,402 liters
Avg. fuel cost: $1.02 per liter
Maintenance items/issues:
Replacement trailer tire (original took a nail)
Replacement trailer wheel bearing (premature failure)
Trailer landing gear failed (to be repaired under warranty)
Trailer washer/dryer failed (to be repaired under warranty)
Trailer black water valve failed (to be repaired under warranty)
2- truck oil changes.


Tuesday September 8, 2009

Neys Provincial Park near Marathon Ontario


We did the 250 km. trip from Thunder Bay and settled in here around 1:00 pm.
There is a lot of localized fog off Lake Superior, it's keeping the temperature lower compared to inland.
We head towards Wawa and Lake Superior Provincial Park tomorrow.
Monday September 7, 2009

Ouimet Canyon


Since we had a second day here, we decided to check out Ouimet Canyon, we haven't seen it since the 1990's with our kids.
It's just as majestic as it was then: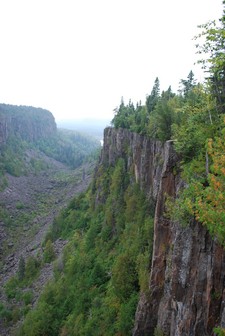 This rock structure is called the Indian head: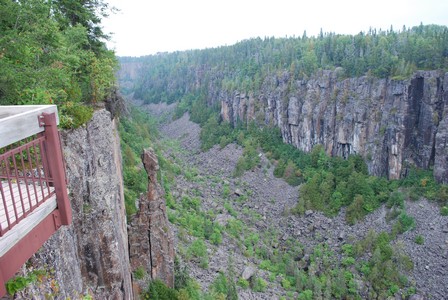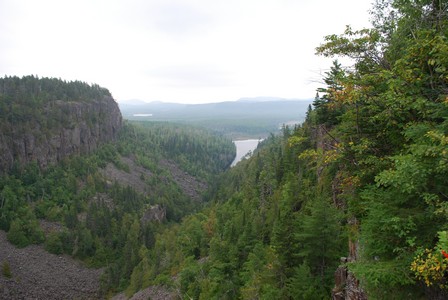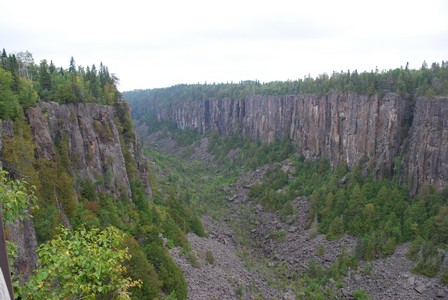 There is a nice wooden walking bridge in the park as well: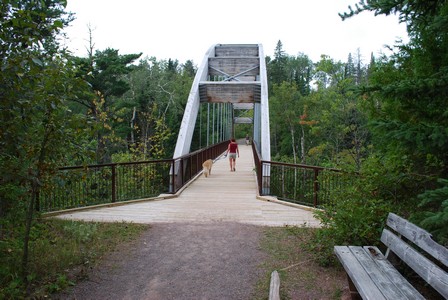 Sunday September 6, 2009

Thunder Bay KOA


We are back here for a couple of days, to take a break from driving and to let the Labour Day rush finish.
I couldn't resist posting a couple of pictures of our granddaughter Rachelle that we took while in Red Lake:
She is walking around quite a bit, but she still crawls because she can cover more territory quicker!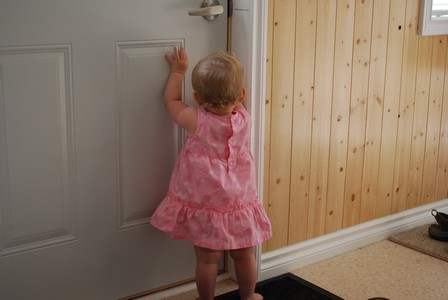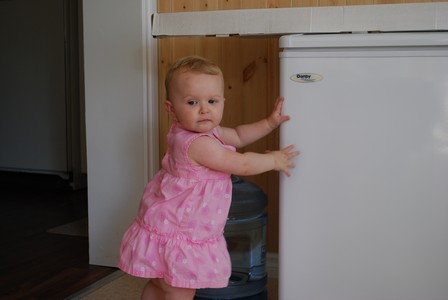 She enjoys eating, but she insists on doing it herself!!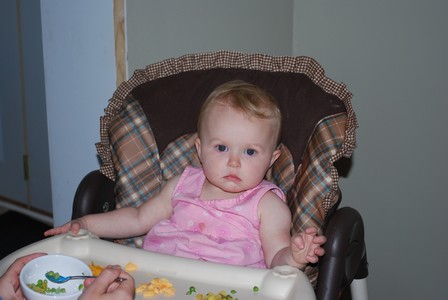 We will probably explore Ouimet canyon tomorrow, something we haven't done here in a while.


Saturday September 5, 2009

Dryden Ontario


After spending a few great days in Red Lake with our daughter, son-in-law and granddaughter Rachelle we are continuing on our way back home. We have stopped in Dryden for the night to split the distance between Red Lake and Thunder Bay.



Thursday September 3, 2009

Red Lake Ontario


We arrived in Red Lake yesterday afternoon and are enjoying our stay at Chantal & Cam's place. It's amazing how Rachelle has changed since we saw her last in the early summer. We are here for another day or so, then it's off to Dryden.



Tuesday September 1, 2009

Crystal Lake Campground in Vermillion Bay Ontario


We've been here before in the early summer, at that time it was cool and wet. Now it's warm and sunny so we took a couple of pictures:
Suzette caught a couple of deer feeding in the grass, one of them was just leaving: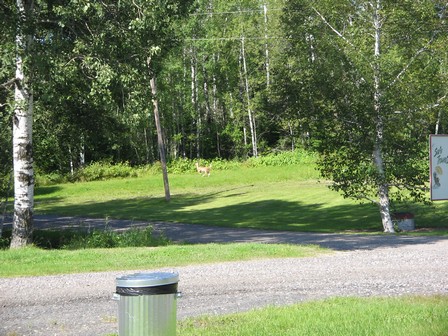 The lake and beach are quite nice: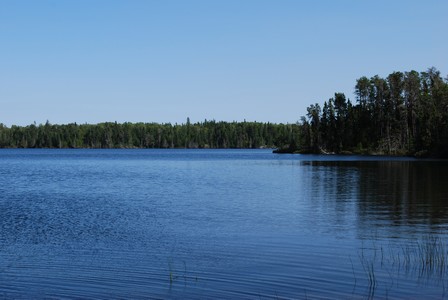 Lots of room to camp: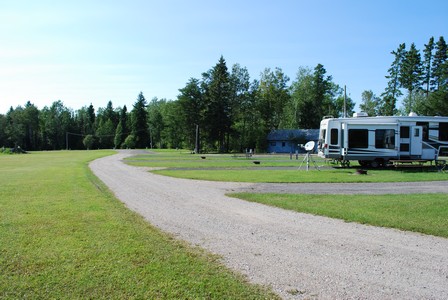 Tomorrow it's off to see our daughter, son-in-law and grand daughter in Red Lake!


Sunday August 30, 2009

The end of the summer!


We are back in Winnipeg at Travellers RV Resort on the perimeter highway. A sure sign that its the end of the summer is that the water slide park next door closed at the end of today, I guess with a late Labour Day the children go back to school starting tomorrow.
We plan to be here for two nights then it's back to Ontario.


Saturday August 29, 2009

Back in Neepawa Manitoba


We are re-tracing our steps, we are parked in the Neepawa Lions campground here. There were a couple of spaces at Riding Mountain National Park but we want to continue back towards home.
We provisioned and gassed up in town and appreciated it's clean openness, it's a place we wouldn't mind living in.
We head to Winnipeg tomorrow, then it's back to Ontario!


Friday August 28, 2009

Churchbridge Saskatchewan


We decided to stop in a municipal campground in this small town instead of hitting the provincial park on the Manitoba side of the border. It's a nice little park with lots of space between sites and green grass. And, it's almost empty!


Some pictures: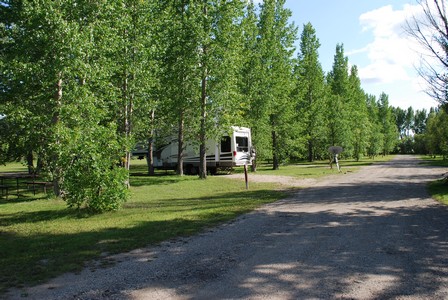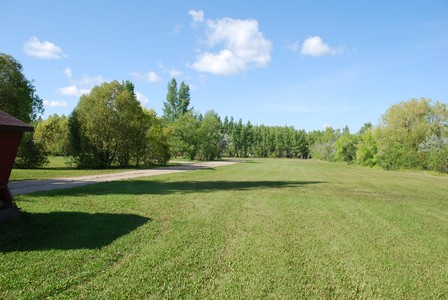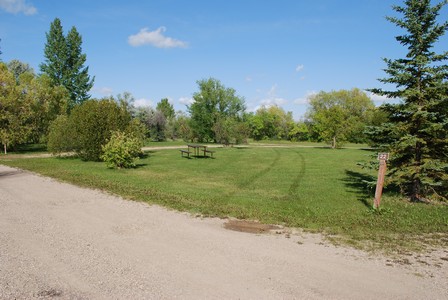 The town has a nice Co-op grocery store where Suzette bought a few items and we gassed up.
Tomorrow it's off to Manitoba, we are already adjusted to the time change!


Thursday August 27, 2009

On the road again!


We left Lloydminster this morning and we got into Lanigan Saskatchewan around 2:30 pm. We stopped a few times to check the newly installed wheel bearing to see that it wasn't overheating and everything looks good. Tomorrow the wheel nut torque will be checked again to ensure that the lug nuts haven't loosened off.
With Saskatchewan not switching to daylight savings time, it gets dark here early, around 8:00 pm This entry is being written at 8:35 and it completely dark outside!
Tomorrow it's off to the Sask/Manitoba border.

Wednesday August 26, 2009

Success!


The bearing cartridge arrived today and the the tech from Truck Zone arrived at our campsite after lunch to do the work. The hub had to be removed and returned to their shop where the old bearing cartridge was pressed out and a new cartridge was pressed in. The tech then returned to our campsite and re-installed the hub assembly and the brake components. The repair looks good, it should keep us going until we return to Ontario.
A picture of the spindle after the hub was removed: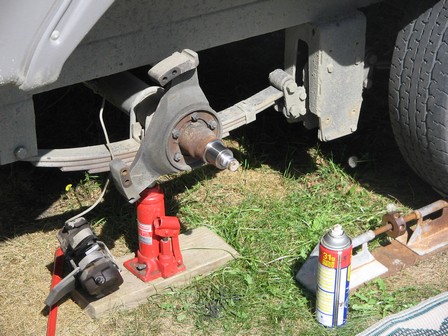 It's nice to have the trailer back together, and we've learned a couple of tricks as well.
The old bearing was kept (it's a bag of debris) and we will check to see if it's still under warranty.
Tomorrow it's off to central Saskatchewan!



Tuesday August 25, 2009

Progress!


Al went into town to get the wheel bearing problem sorted out, The RV dealer doesn't do repairs to wheel or axle problems but we were referred to a place called the Truck Zone who are a heavy truck parts/repair operation. They didn't have the Dexter bearing in-stock but are having it shipped here tomorrow morning and they will come to our campsite and do the work. Great service!
Meanwhile a couple of beacon wrapped Fillet Mignons are defrosting for a BBQ to celebrate the sunny warm weather and the sucess in solving the problem!



Monday August 24, 2009

In Lloydminster Saskatchewan


We are making some miles, we in stayed in Whitecourt Alberta last night (in the trees) and we arrived here after 3:00 pm. We have developed a wheel bearing problem on the trailer (Suzette says this trip is starting to be the "what else can go wrong?" trip!) so we may be here for a day or two.
Not much else to report except we are staying in a "not bad" campground with full services, the bearing problem will be worked on tomorrow!

Saturday August 22, 2009

Dawson Creek BC


We were lazy today, only about 75 km. of a drive between Fort St John and Dawson Creek, we parked in the Mile "0" Rv park.
We got in early and shopped, and the truck was treated to a lube, oil and filter change.
We also tried to cash in our Super 7 lottery ticket. Did I mention we have been lucky up here? We are not gamblers by nature, but we made over $60 on the slots in Dawson City. We also bought a few lottery tickets, the belief being that we may be more lucky away from home. Well, we have won a free ticket on 649 and on the last Super 7 draw we got 5 out of the 7 numbers!! That's the good news, the bad news is that we have to wait to get back to Alberta to cash in the tickets, they are marked the "Western Canada Lottery Corp" (or something like that) but the terminals here in BC can't read the tickets. We will try to hit a lottery kiosk in Lloydminster to get the $100 or so from the win. Enforced savings!
There is a music festival going on in the museum next to us here in Dawson Creek (something called Peace Fest), we are being serenaded by music as the evening goes on, hopefully the music will shut down as the evening progresses.
Friday August 21, 2009

Fort St John BC

Tough Day!


We arrived in town just after noon today and checked out two of the three RV repair places to get our landing gear problem looked at (the third was a Ford dealer who sells but probably doesn't service RV's).
In both places, the service personnel were away for lunch so we had to wait (Mexico anyone??), the first place was a Honda dealership that didn't have the parts for the landing gear (and Al didn't wait until the service guy returned from lunch), the second place (after we waited until the place re-opened after siesta) told us that they were closing for holidays at the end of the day and wouldn't accept any new repair business (and they didn't have the parts anyway). We were under the impression the westerners were a hard working bunch, based on our experiences here that impression is definitely false!!
We booked into the Rotary Club RV campground in the north end of town and attacked the landing gear problem. Turns out the drive pin holding the gear had fallen out and was lying on the tray, but Al could not get the pin back in place, the fix was to use a small stove bolt and tie wrap as a temporary fix until we get the trailer back to Ontario.
After wiping the grease off the hands and a beer, we enjoyed a nice dinner and a walk.
We are on the shore of Charlie Lake, during the construction of the Alaska Highway in 1942 a number of servicemen lost their lives when the barge loaded with equipment capsized in the lake as they were transporting it to the other side to build the highway. A monument has been erected to remember the sacrifice: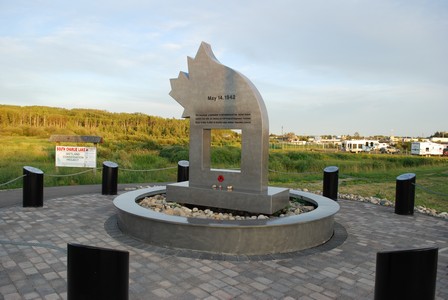 This is some detail about the history:
Charlie lake is quite beautiful: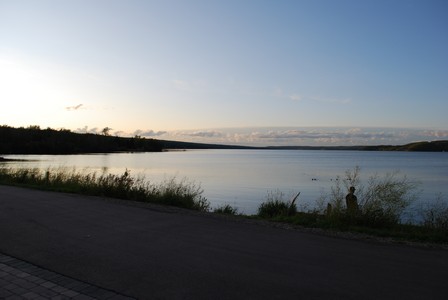 There are some high dollar homes on the shore of the lake: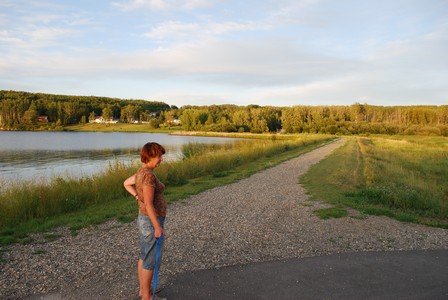 We will see how the temporary fix on the landing gear works out as we head back to "Mile 0" at Dawson Creektomorrow!

Thursday August 20, 2009

Sikanni Chief


We are at the Sikanni river RV park here, it's a place that we also stopped at in 1992: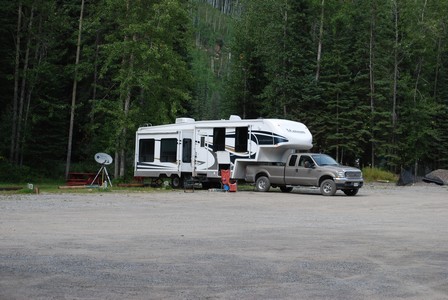 We are taking up about 3 slots, but it's very quiet here anyways. There are some great sites beside the river but I wanted internet connectivity and the hills are high here so this site accommodated the dish.
Please excuse me if I spend some time down memory lane!
When we stopped here in 1992, the old wooden bridge crossing the river was on fire, apparently set alight by some vandals. It was one of the last wooden bridges left on the highway, and apparently burned well because of the creosote coating. This is a postcard bought at the store here showing the fire in 1992: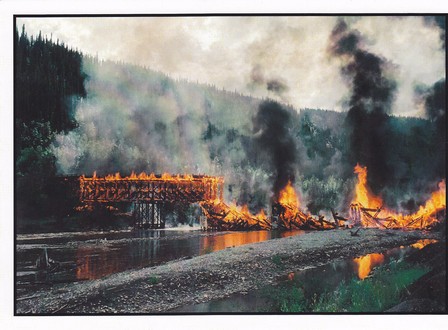 Suzette asked the owner if she was around then, it turns out that she is the third owner of the place. This is a picture showing what's left of the bridge today: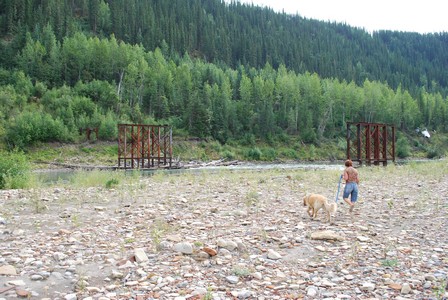 As you can see by the height of the rocks, the truck has some climbing to do once we leave the campground tomorrow!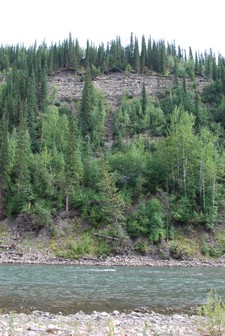 Our destination tomorrow is Fort St John, we were in contact with Glendale and it looks like they may cover the cost of the landing gear repair under warranty!

Wednesday August 19, 2009

Fort Nelson BC (and back to summer weather!)


We arrived here around 2:00 pm today. The area is nothing special, we are in a gravel RV site behind a motel. We took the opportunity to switch back to the internet satellite 99 west, so we are good on reception back to Ontario. The good news is that we are close (easy walking distance, remember the RV can't be disconnected from the truck because of the landing gear problem) to a Boston Pizza, we had a nice dinner and we enjoyed some good weather, we actually had to leave the A/C on for Kasey when we went for dinner! It's the first time that we needed shorts in a long while and we are enjoying it.
On the way here we caught some wildlife shots:
Now that's a road block!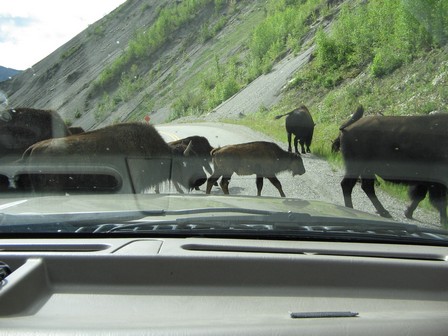 This guy stopped to brush off some bugs while we waited: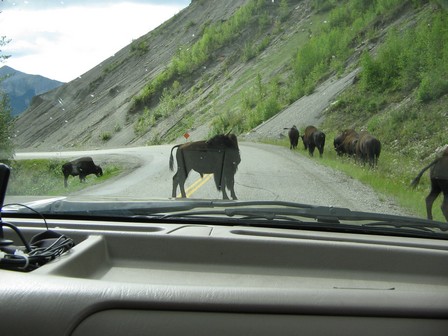 We saw a moose with her calf (Suzette wasn't quite quick enough to catch them), but we saw some Caribou crossing the road: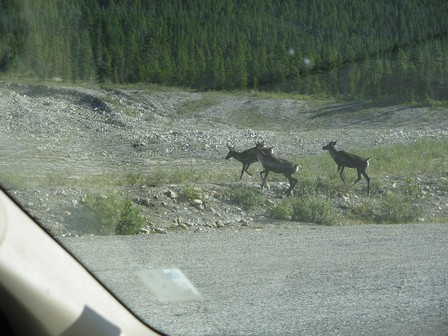 Tomorrow it Sikanni River RV park, halfway between here and Fort St John.
Tuesday August 18, 2009
Toad River BC
We stayed at this surprisingly nice RV park. We back out onto a lake: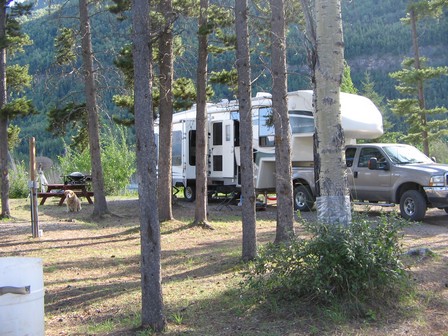 The beaver are busy here, there is a large beaver house and the aspen trees are protected by the owner of the campground: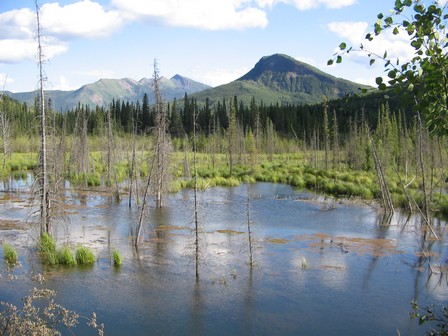 We enjoyed our short stay and the good weather!


Monday August 17, 2009

Watson Lake


We got here after 2:00 pm today and we are back in the Campground Services RV park, one of only 3 or 4 campers.
The camping season is almost over here, trash barrels are being put away and the grocery store is closing on August 20, the shelves are almost empty with the 50% discount on prices. Watson Lake is a little sad looking right now, a number of business have closed and things are very quiet.
We developed a problem with the RV, the landing gear on the roadside has stopped working. The problem seems to be a missing or broken dowel pin on a bevel gear in the gearbox, unfortunately there are no RV repair places in town, so we will have to wait until probably Fort St John to get the repair done. This means that the trailer will have to remain attached to the truck until a repair can be done.


Sunday August 16, 2009

The Yukon Motel & RV Park in Teslin


We are about halfway between Whitehorse and Watson Lake. On the way north we did this stretch (about 450 km.) in one day, this time we broke it into two segments.
We have the RV park to ourselves, most RV's probably don't stop between Whitehorse and Watson Lake. It's a nice spot, right on the shore of the lake, the only downside is that the traffic makes a noise crossing the bridge as the deck is "expanded" metal. This shouldn't be a problem later as the traffic on the highway is minimal at night. A couple of pictures:
The sky was a little dark, but it didn't rain much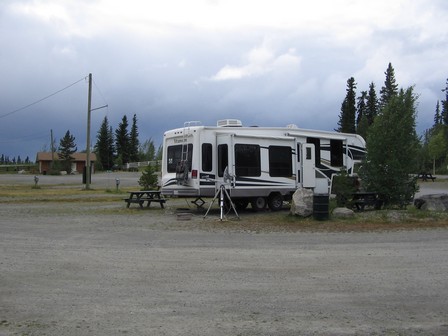 This is the view from our campsite door: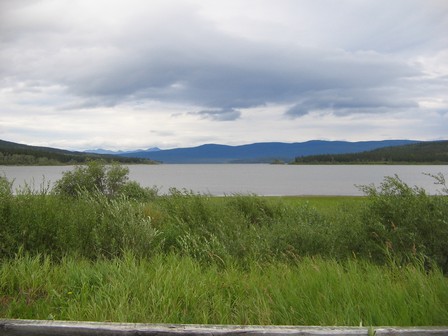 Saturday August 15, 2009

Whitehorse Yukon


We arrived back here yesterday afternoon, it wasn't a bad drive and we decided not to stop in a territorial park halfway as it remains cool (at least to us) and the High Country RV park here has full service (we even got cable TV and sewer!).
The other reason we stopped here again was to try to get the washer/dryer repaired, the tech here is off for the long weekend, it's Discovery Day here on Monday (last time we were here he was on holidays!), I guess they are somewhat laid back here, as he left early Friday.
We shopped earlier today and gassed up for the drive tomorrow.
We hit the Miles Canyon this afternoon for some hiking:
This is the Miles canyon, we first saw this area when we were here with the kids in 1992: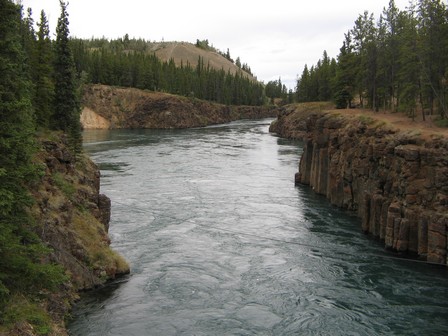 There is a neat footbridge across the river: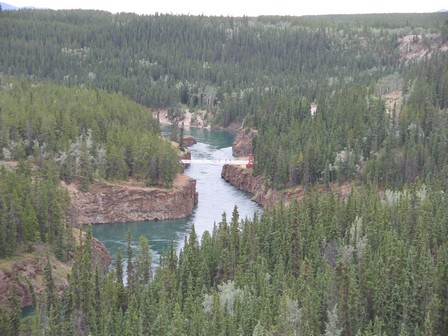 We took the same shot from this location in 1992: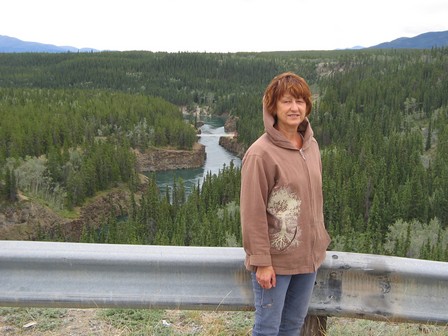 A fishway (actually the worlds longest wooden fishway) has been built to let salmon pass the dam built here, the dam produces electricity for Whitehorse and area: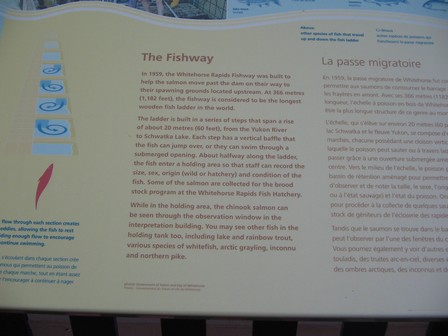 You can just see the salmon queuing up to go up the fish ladder: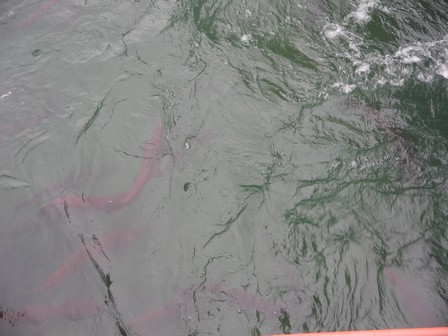 This is half of the ladder: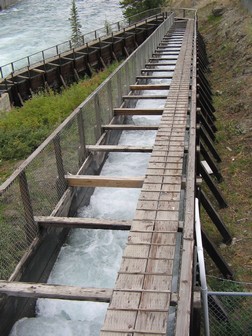 There are a total of 7 turbines on the river here, producing a substantial amount of electricity: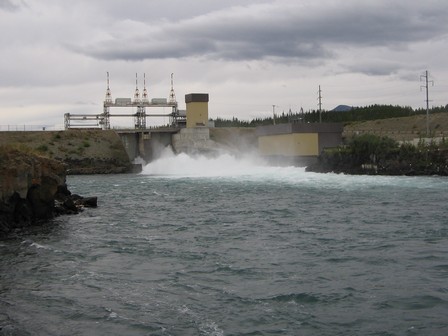 We will attend the Frantic Follies show in town tonight, then we take off tomorrow for points south. We've done a good job of exploring Whitehorse, we know all the roads without a map!!

Thursday August 13, 2009

Destruction Bay Yukon


We are in an RV park here after a bit of a rough drive on the Alaska Highway. It's actually a bit rougher than the top of the world highway (although Suzette might disagree!), lots of frost heaves and gravel sections, with the truck in second and third gear most of the way. The other bit of a disappointment is the number of closed RV parks, we had planned to stop at a place north of Burwash Landing, but it was closed (probably for a couple of years).
The park here is no jewel (it's a gravel parking lot basically), but it has electricity and water (and a dump site that we haven't found yet).
A couple of pictures:
The view is good, that's Klaune lake in the background.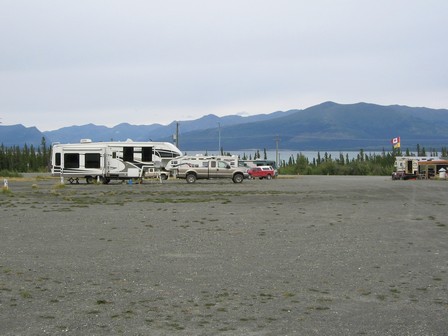 Some mountains on the way here:
Tomorrow we may hit a territorial park for some better ambiance.

Wednesday August 12, 2009

Back in Canada!
We drove back over the border to Beaver Creek Yukon after staying in Tok Alaska last night. It rained all day yesterday in Tok and last night it cooled down, the water on the windshield turned to ice this morning. We burned lots of propane keeping warm overnight.
We had an interesting drive over here. One of the trailer tires was low on air, so Al added some air in teh campground in Tok. When the pressure sensor was taken off, a piece came out of the sensor. The sensor was put back together and put back on the tire and we headed down the highway. A few miles down the road, the tire started losing pressure, so we had to pull off the road to do a repair at a gravel pit that was convenient to the road: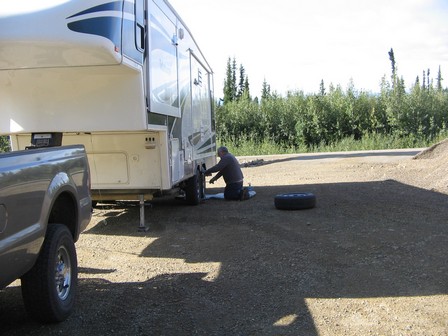 At this point, it's not clear whether there is a problem with the tire or the pressure sensor, that's being tested in the bed of the pick up tonight. It's fortunate that a new trailer tire was purchased in Wasilla to replace the other tire that had taken a nail in the Yukon.
We are in the Westmark hotel RV park in Beaver Creek, it's a quiet campground with hydro and water (and a dump site):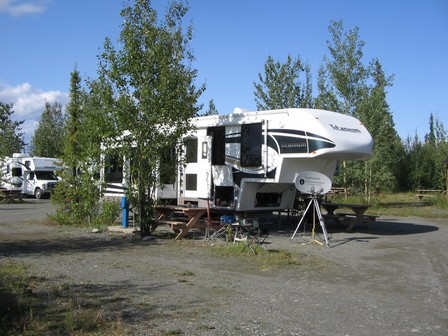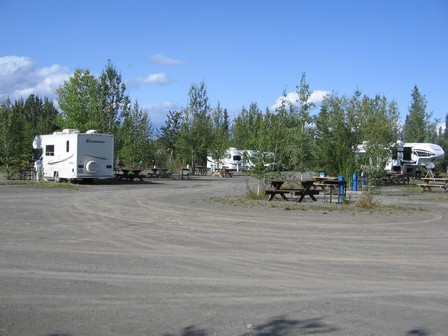 We will head down the highway for a 150 km. or so tomorrow, we are still a couple of days from Whitehorse.