The adventure continues! Click here for our return trip!


Monday August 10, 2009

At Hart RV campground


This place is about halfway between Glennallen and Tok Alaska, it's a nice stop, full services and we are the only people here. The facility is great, a hotel and RV campground run by a widow, it's currently for sale. The lady is an artist, she does bronze statues and other great stuff, we bought some gifts here.
A couple of pictures:

The hotel rooms are below the deck, Suzette says they are great, 2 queen size beds in each room: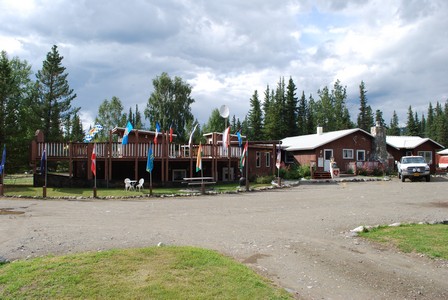 We are tucked into a back-in site with full services: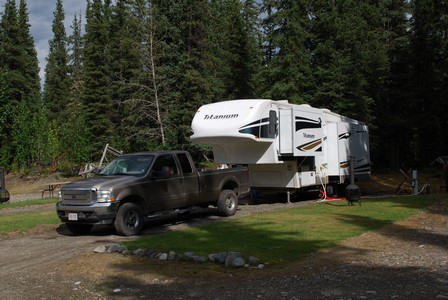 Sunday August 9, 2009

Tolsona Wilderness Campground near Glennallen Alaska


We drove all of 100 km. or so in heavy rain to this great campsite, it's like a provincial park with sites along the river with water and electricity. The rain stopped later in the afternoon and we had some time outside near the river. We didn't take any pictures, maybe tomorrow morning. We are enjoying some of Jim & Suzie's fantastic smoked salmon and taking in the Alaskan views!


Saturday August 8, 2009


Matanuska Glacier Area


We are stopped at the Grand view RV park on the Glenn highway, the campsite has a great view of the mountains. The Matanuska glacier is about 10 miles down the road and we went back to take some pictures.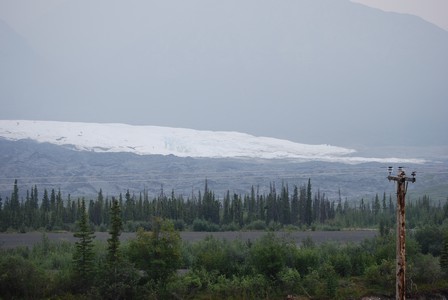 The cold ice from the glacier creates some fog in the area: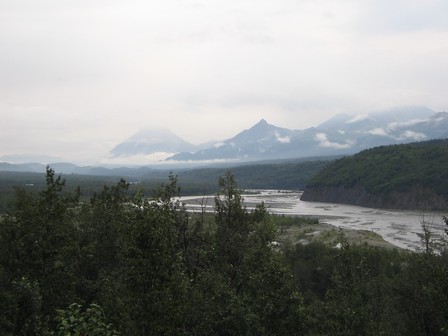 This is a view of the mountains from our campsite: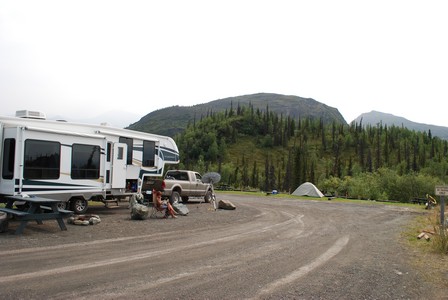 Making the turn for Home!


Yesterday we rolled out of Jim & Suzie's place in Sterling and we stopped overnight here in Wasilla. The visit was tremendous, we enjoyed great food, fantastic company and the best of Alaska. We still have some pictures and commentary to post about our day trip to Seward on Thursday. Stay tuned.

Today we hit the Glen Highway and head slowly back to the Alaska Highway at Tok.


Wednesday August 5, 2009


The end of the Road!


We are parked in a meadow of friends Jim & Suzie who we met while in Mexico. They live near Sterling on the Sterling highway. They have generously allowed us to park the RV here and they are plying us with home smoked salmon and and other local seafood, we are being spoiled and are very thankful!

We took a day trip into Homer today, it's the end of the Sterling highway and about as far west as you can go by car in Alaska.

We took some great pictures:

Yes, it must be the end of the road since the hotel has the same name!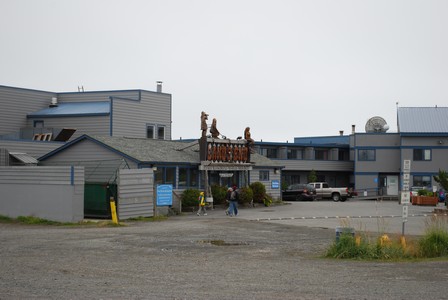 There is a ferry service from here to other Alaska points: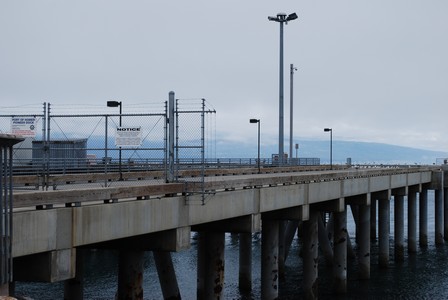 We stopped for a coffee and some souvenirs at some interesting stores: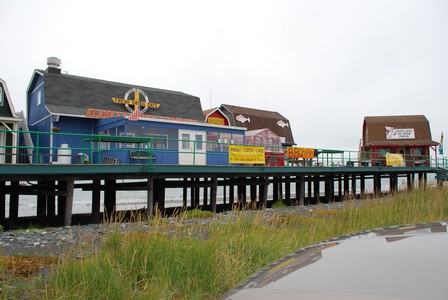 The area has a maritime climate and coming into Homer there is a great place to take a picture of the town and the spit of land at the end of the road. Unfortunately it was fogged in, but Suzette was able to get this picture a little bit down the road at a lower altitude. You can just see the spit at the top left of the picture below the cloud: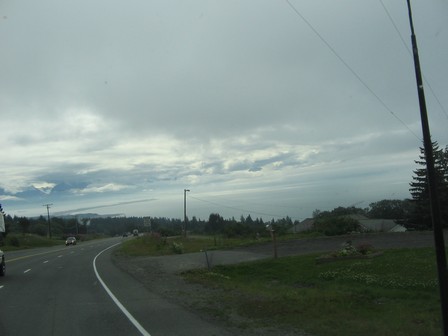 Prior to staying here in Sterling, we stayed for a night in Hope, and before that we stopped in Anchorage.
Hope is a historic village on the inlet across from Anchorage. Anchorage has that "big city" feel that we aren't familiar with but there were a couple of good photo opportunities:

This is a view of Cook inlet: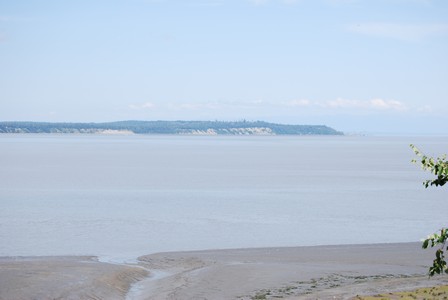 There were some great views on the way from Anchorage and Hope: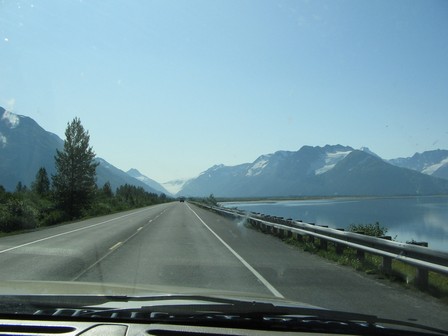 Saturday August 1, 2009

Big Bear RV park near Wasilla Alaska


This morning we headed to an RV park closer to Anchorage but it was full. We returned to the Wasilla area and found another park. After, we drove into Anchorage and looked at a park and we reserved a site for tomorrow. We don't particularly like staying at city parks, but we want to see some of Anchorage before we head down the peninsula.

A couple of pictures of the park:

Not a great park, but it's OK for overnight.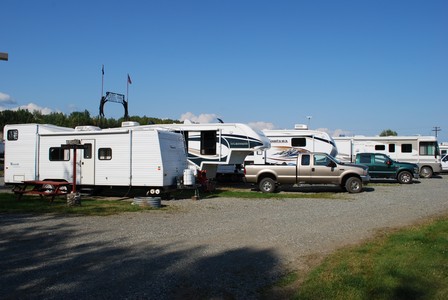 The view of the mountain is nice: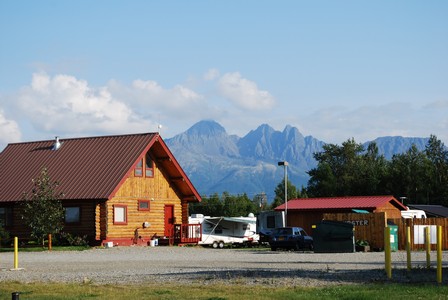 Friday July 31, 2009

Alaska Trails RV park near Wasilla Alaska


We are in Sarah Palin territory! It's getting busier as we head towards Anchorage, but so far RV sites have been easy to get. This RV park isn't one to write home about, its a gravel lot but it has full services and a good laundromat. It's been raining on and off for most of the day here and there are flood warnings for places not too far away, but we should be ok.



Thursday July 30, 2009

Talkeetna Alaska


We are in Talkeetna Camper Park near
Talkeetna Alaska. Last night we stayed at Byers Lake campground in Denali State Park, a nice state park but in the trees and no services. Talkeetna is more touristy,
with lots of places to eat and drink. It's a hopping off location for train, air and river travel to Denali National Park.
We have enjoyed our stay here , we dropped into a medical clinic for some needs and they were responsive and efficient, we also loaded up on provisions close by.
A couple of pictures:
The mountains are in the background, I think one of them is McKinley: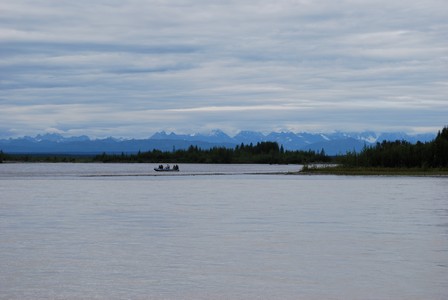 The tops are cut off by the clouds: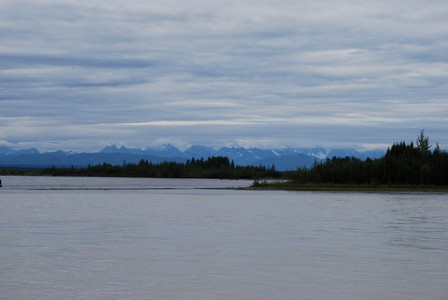 Tomorrow we head south to Wasilla, then after that towards Anchorage!

Tuesday July 28, 2009

Denali National Park

Wheres the Mountain??


Just like the old TV commercial "wheres the beef?", we checked out Denali National Park by driving the 11 miles or so into the park that you can drive in a private vehicle. We were underwhelmed, to put it mildly. No Mount McKinley to be seen, and not much else!

The drive was uninspiring, no wildlife was seen (except for the specimen below) and a couple of pictures were taken. This cost us $20.00 for a pass, we could take a bus along with a bunch of others on a 6 hour tour (think "cattle car") tomorrow for about $50 per person, but we don't think so.

We haven't been to a lot of US national parks, if this is an example of a good one, then it's sad, the national parks in Canada are much better, try Banff and Jasper for better access and more wildlife.

We booked a campsite here for tomorrow night as well, but we may pull out tomorrow morning as there isn't anything else worth seeing here for us.

Some pictures:

A hotel outside the park: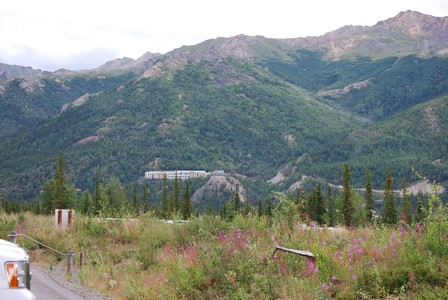 One of the "cattle cars" on the organized tour: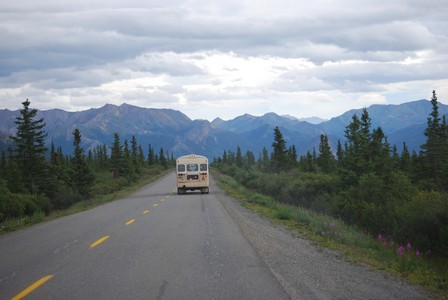 One of the mountain ranges in the park: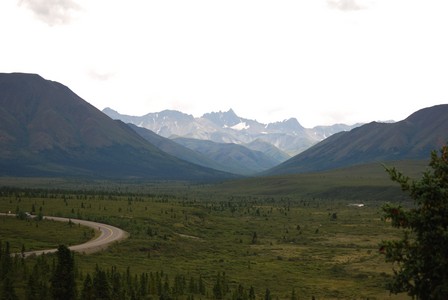 When we stopped at a turnout to take a picture this "wild animal" came by to beg for food, it was tame and had been fed by tourists before: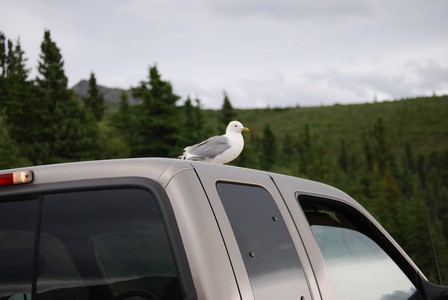 Monday July 27, 2009

Near Denali Alaska


We are in the the Tetlanika Trading Company RV park, it's a jem of an RV park, 21 sites and even has it's own airstrip!
Some of the campsites are along the edge of a grass landing strip, the owner has a small plane (probably a Cessena).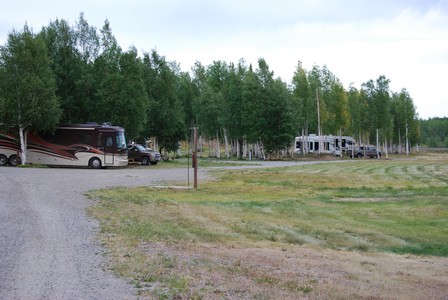 A great small campground!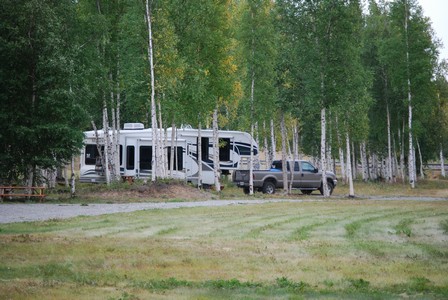 The strip: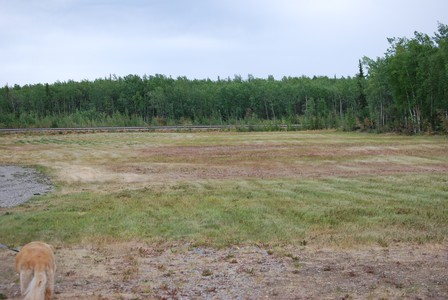 We have stopped here overnight and we will hit the Denali area tomorrow.

Sunday July 26, 2009

Fairbanks (actually between North Pole and Fairbanks)

The Boat Cruise


We took the discovery Riverboat cruise and enjoyed it very much!

It was a little "touristy" with 10+ tour buses dropping off folks for the cruise, but it was still good.

Some pictures:

This was our boat, Discovery III, it has a draft of under 40 inches: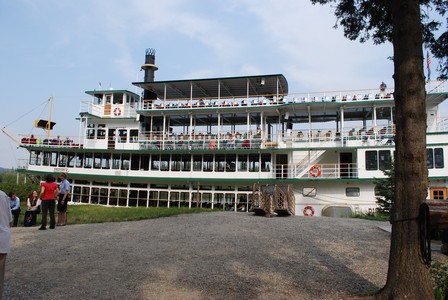 Discovery II would have been a better ride (fewer people):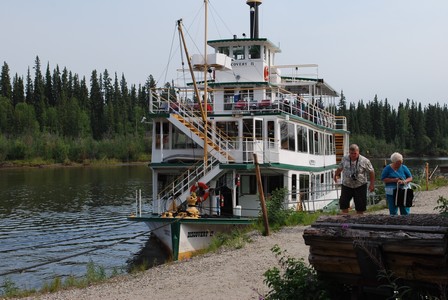 There were reindeer on display, we learned that reindeer are domesticated Caribou: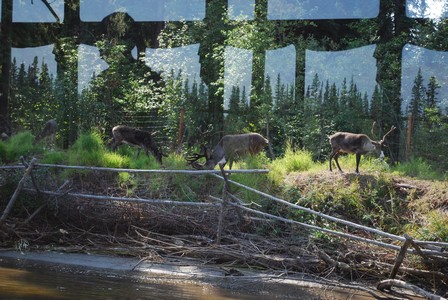 Yup, it was a little crowded!:
One of the highlights was a display and "race" of a dogsled by the husband of Susan Butcher, a woman who won the Iditarod three times. Unfortunately she passed away from Cancer a few years ago. These dogs are descendants of the dog who led the winning sled for the races: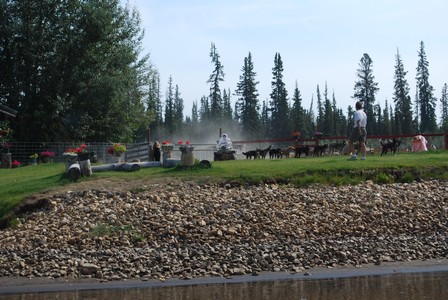 There are a few million dollar homes on the shore of the river outside Fairbanks: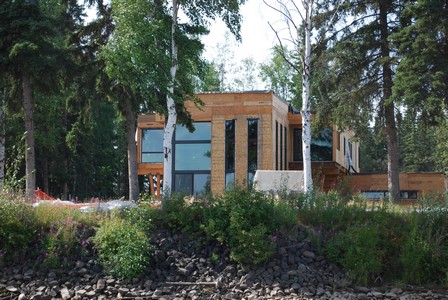 As I'm writing this, we are inside the trailer to get away from the falling ash from the forest fire nearby, it feels like being downwind from a smoky campfire!

We pack up tomorrow morning and head toward Denali!
We got here yesterday just after lunch and since we are only about 10 minutes out of Fairbanks at a nice place called Riverview RV park, we decided to stay here instead of camping in downtown Fairbanks.

We took the drive in yesterday to look around and we took a couple of pictures.

This is the center of town, the black clouds are not rain clouds, it's smoke from a forest fire burning about 50 miles away: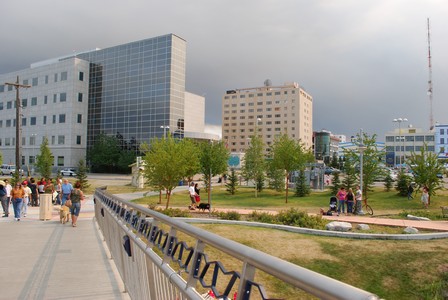 This monument is dedicated to the pilots who ferried aircraft up here and over to Russia during the second world war, something called the lend-lease program: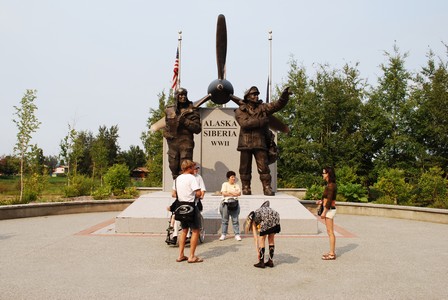 Some nice walking paths in town. Notice how dried out the grass is here, southern Ontario folks eat your hearts out!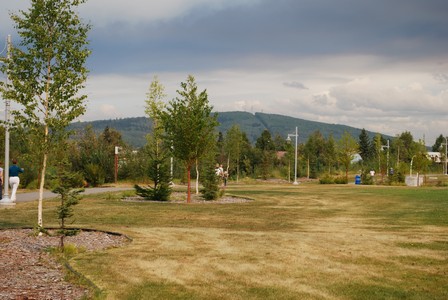 There actually was a small gasoline spill in the river in town, a boom was put into the river to catch the surface material, the crew is part of the spill response team for the Alaska oil pipeline: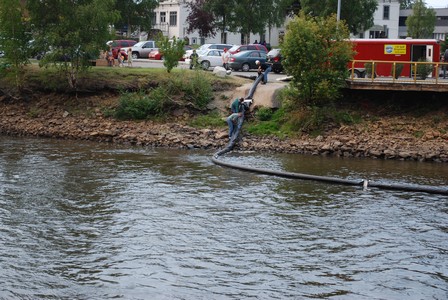 We have booked a ride this afternoon on a paddle wheeler that goes through the area, pictures later!




Friday July 24, 2009
Delta Junction Alaska


We are here at the official end of the Alaska Highway, we change to the Richardson Highway which goes from Valdez to Fairbanks and head to Fairbanks tomorrow.
We stayed in Tok at a nice RV park last night, but couldn't get on-line because of trees. The park had wifi but were charging for it, and the signal strength was low, so I declined.
We took the opportunity to have an extra waste valve installed in the RV as a temporary measure, the original valve was leaking. I had it in to Morry's to fix it, but they didn't. It's no fun dealing with yellow liquids at dump sites!

Suzette took a couple of pictures on the way over here: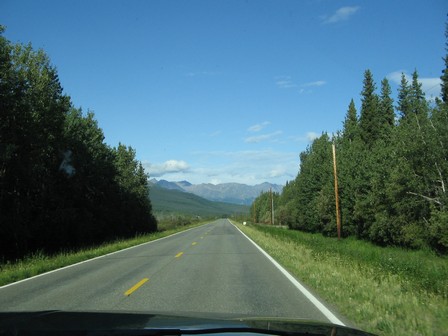 Nice straight roads with mountains in the distance!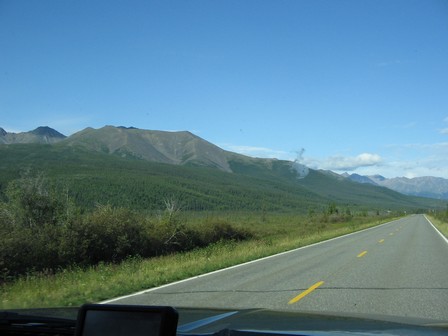 We are at a full service RV park that is quite nice, and the laundromat worked quite well: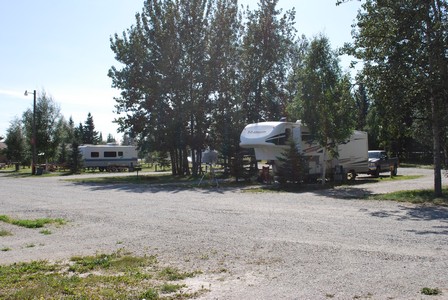 We couldn't resist the urge to stop at the visitors center to take a few pictures:

Yup, they grow the mosquitoes pretty big up here!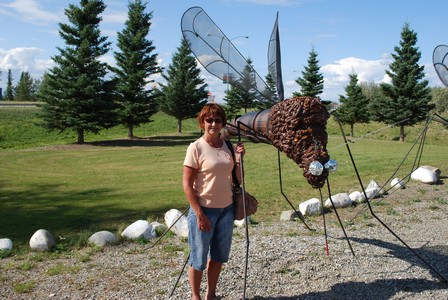 The milepost at the end of the Alaska Highway: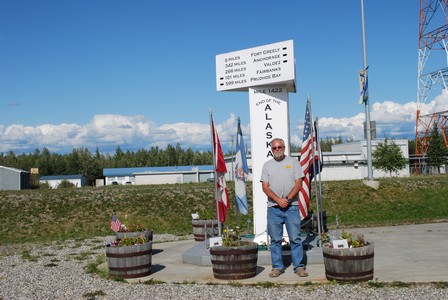 Another view: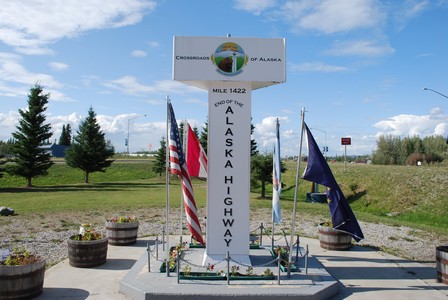 Some interesting stats on the oil pipe sizes: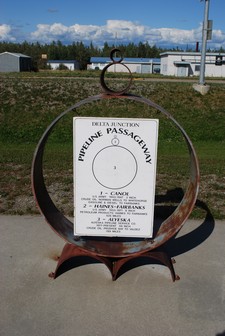 Tomorrow we hit Fairbanks!