We are now on the return leg of the winter trip, for recent posts go here!
Sunday February 21, 2016
Second Visit!
Chantal, Cam and our grand daughters Rachelle and Kate joined us for a week and left yesterday. They had more of a weather "shock", they left Winnipeg at -40C and arrived to a the daily high here on their first day of +30C!
They had a good week, we went to see some of the desert sculptures that they (and we!) haven't seen before and they enjoyed some pool time. As last year, president Obama was in the area for a summit and some golf so they got to see Air Force 1 at the Palm Springs Airport. In spite of some road closures getting in and out of the airport wasn't bad.
Some sculptures:
Even the Ocotillos were starting to bloom!
Lots of good times around the camper!
Cam in "relaxation mode"!
The Cam-Am golf challenge took place during the week as well. It was dampened a bit by our neighbour Pat suffering a stroke just before the tournament started , Pat is a host who puts together lots of the activities. She is still recovering in hospital in Palm Springs and we wish her well.
Some pictures:
Murdoch is wondering what the action is all about!
There have been ties in recent years but this year, for the first time, the Canadians won! The trophy and some symbolic hockey sticks!
---
Saturday February 6, 2016
Great visit from the kids!
We had Nicole and her family down for a week, the weather wasn't the warmest here but they did get some pool time and picked up some rays while they were here. They also dipped their feet in the Pacific ocean at Oceanside and had some great Julian pie
Murdoch has really settled down and he enjoyed the time with Carter and Bennett!

The folks next door were kind enough to let us borrow their frisbee:
Some pool time!
More dog time!
---
Sunday January 24, 2016
Wow! No postings for two weeks
Yes, you can tell we are relaxed. We haven't done a whole lot since the last posting. Al went with Ed to the Quartzsite RV show in Arizona and bought a RV backup camera which he is still "puttering" with and we've enjoyed some happy hours with our neighbours here.
We are gearing up for the visit of our daughter Nicole and her family, they arrive this coming Saturday.
The weather has warmed up and we had a couple of spectacular sunsets as the photos below show. That's all the news for now, back to some more relaxing!
---
Sunday January 10, 2016
Nice Lunch Venue!
Yesterday we went over to Rams Hill for some lunch with Ed and Karen. As usual, the view from the terrace was beautiful as the pictures below show. We had a great lunch and were looked after very well by the staff. We were warned that they were hosting a wedding and the meals might be a little late in coming (they arrived promptly though!). In addition the chef came by to check on us and they also provided ponchos and cranked up a radiant heater to keep us warm. The venue is a bit up the hill and at only 15C and in the shade it was a bit cool for us thin blooded snowbirds! Great service, food and company, we plan on returning!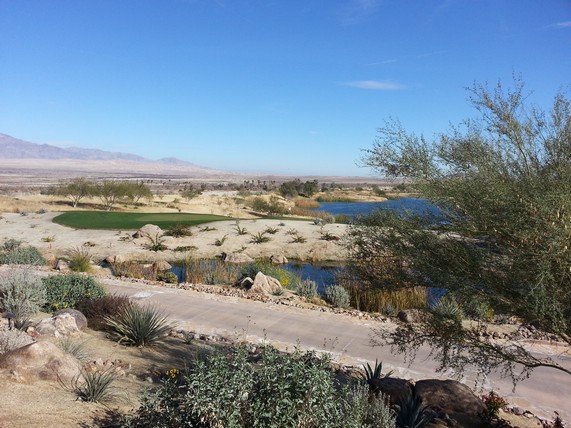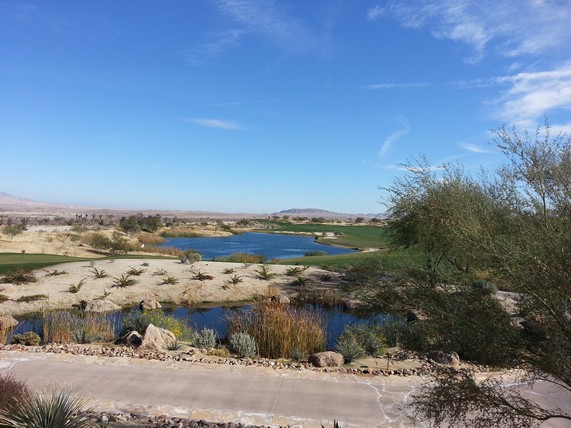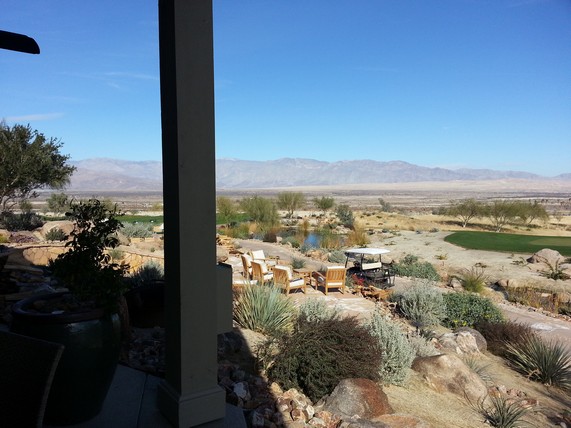 ---
Thursday January 7, 2016
Survived all the Warnings!
Well, they said El Nino would prove interesting this winter, and it is down here.
Yesterday we had about an inch or so of much needed rain and there was local rain, tornado and flood warnings on the weather forecast, the local fire department even had sand bags available! Most of the action seems over this morning. Back home an inch of rain isn't special but here that amount can create flooding on roads as the drainage isn't as good, they don't plan roads for heavier rain. We were planning on going to Brawley to shop today but Suzette's friends at the dog park indicated that there is a dip on the local road here that floods regularly, so we are delaying a day. It's good to have the advantage of "local knowledge"!
It wasn't cold (below freezing) last night in the park, but that rain in the hills close by turned to snow:
Warmer drier weather is on the way!
---
Tuesday December 29, 2015
Relaxing and Enjoying!
This month has been cooler and more breezy than we remember from previous years. We've gone through 4 bottles of propane, a combination of heating and more indoor meals. Yesterday we had our first measurable rain, this morning some of it had frozen or turned to frost, but there is no snow on the hills nearby.
We spent a quiet Christmas, after two Thanksgiving turkeys (Canada and the US!) we enjoyed a couple of Cornish hens.
Fortunately the days can be spent outside if the wind isn't blowing hard.
It's pretty calm outside today and Suzette and Murdoch are enjoying some "sun time". Murdoch just returned from his 3/4 mile desert walk (and he had lots of dog park time this morning!) so he's relaxed!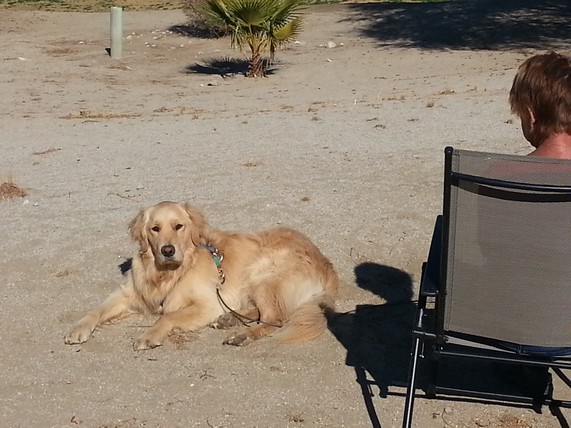 We wish everyone a Happy New Year!
---
Monday December 14,2015
Another Blow!
This wind storm overnight was a bit stronger than the last one. The weather underground reported 55 MPH gusts in Borrego Springs but it was a bit worse here.
People who walked around the resort here earlier this morning reported the "tree count" of downed trees at 12. The crews are out with a chipper and clean up equipment going from row to row taking down trees and cleaning up the sites, a number of them are already cut up and chipped. No damage was done to RVs and most of the damage was in the original part of the park. The roots of the trees are shallow as a result of the irrigation which makes the trees easy to blow over.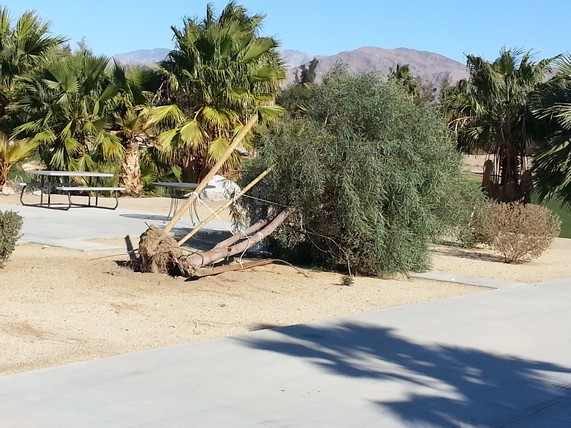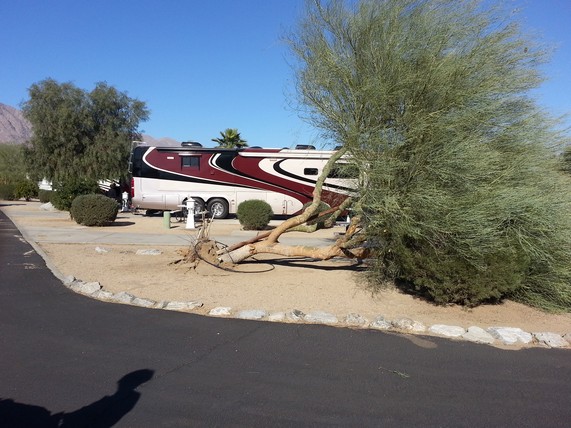 The crews left the stumps for another day after sawing and chipping the trees
The Gazebos in the pool area were ripped up and there is a lot of debris in the pool: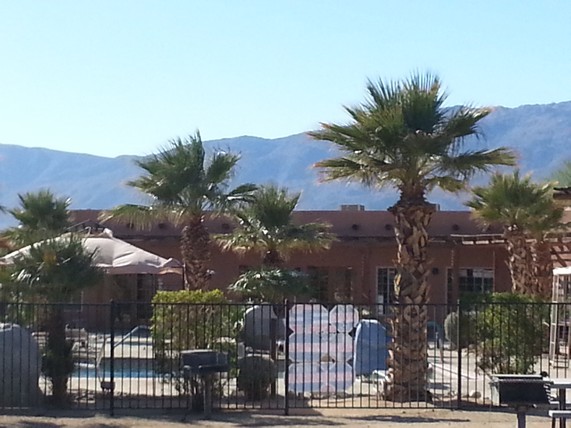 When we walked through the crews were about halfway through the original campground: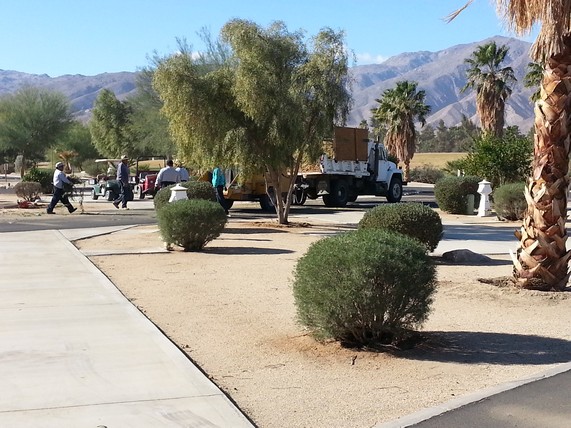 All this and mere spits of rain again! The wind is supposed to die down after lunchtime.
---
Saturday December12, 2015
Rain (almost!)
We had wind warnings overnight on Thursday night continuing yesterday with some rain in the forecast.
Well, we got the "blow" with 50 MPH winds but the rain was a virtual no-show in our immediate area. They probably got some in the hills and near San Diego (Al is too lazy to check!) but not here, other than a few drops that could be seen on the windows, they quickly dried.
The clouds came over the hill but just produced some fog as they dropped down towards us: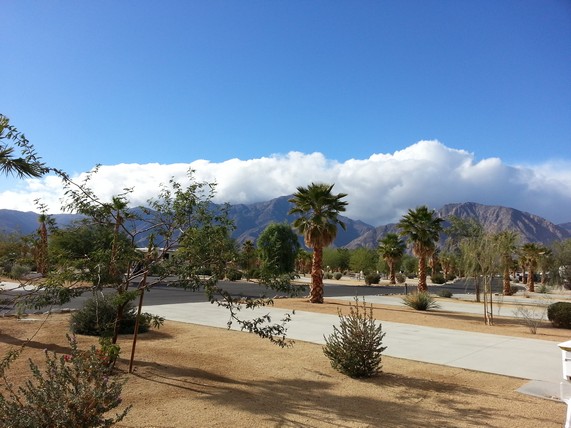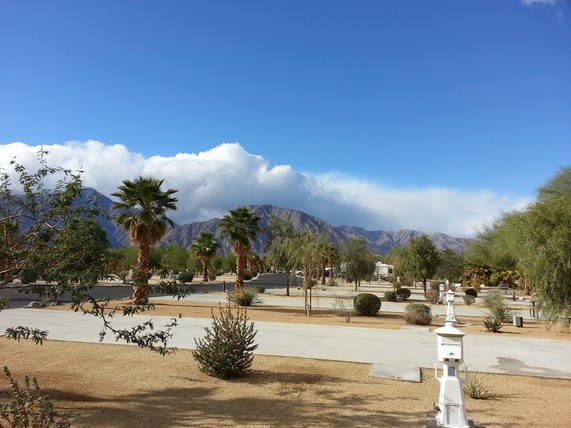 We did get a couple of nice rainbows though!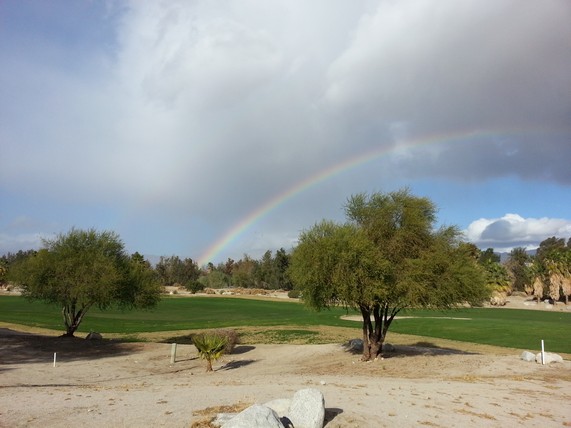 The front cleared out any clouds, we have a clear but cool sunny day!
---
Thursday December 10, 2015
A treat from Suzette!
One of the nice things about being here in the US is that there is a number of different foods here that we don't see back home (and some that we can't get down here like garlic butter!).
Suzette was in the local market yesterday and picked up a loaf of jalapeno cheese bread (which wasn't quite as good as the loaf the local baker had at the farmers market last Friday), she also picked up a pack of these: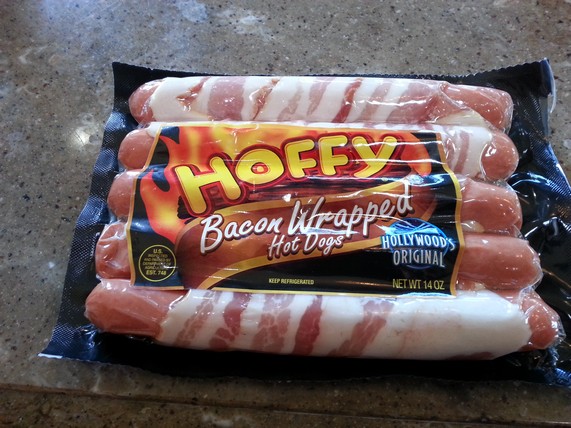 Yes, we are probably too lazy to make them up from scratch, but this is our dinner item tonight (and to help Al out they come with cooking instructions including in which direction you turn them on the grill!).
If they work we will try some "from scratch" variations.
We are staying "close to home" for the next few days, the pickup is leaking oil from the front differential, looks like a pinion seal leak. The Ford dealer in Indio didn't get good reviews from our neighbours so on Tuesday Al will head to Yuma to get the repair done. A couple of years ago the pinion seal on the rear differential also leaked (do you see a Ford "trend" here?) and Alexander Ford in Yuma did a good job. With 2 hours of driving each way and a one hour time change it will require an early start! Murdoch will have to get us up early!
---
Monday December 7, 2015
Tracking the elusive Roadrunner!
Last year the roadrunners were pretty scarce, this year we've seen a couple already.
It's nice to get some "local knowledge", one of the local ladies that takes her dog to the dog park to play with Murdoch indicates that these bird can be aggressive, she once got bit in the "derriere" by one! We will be more careful stocking them: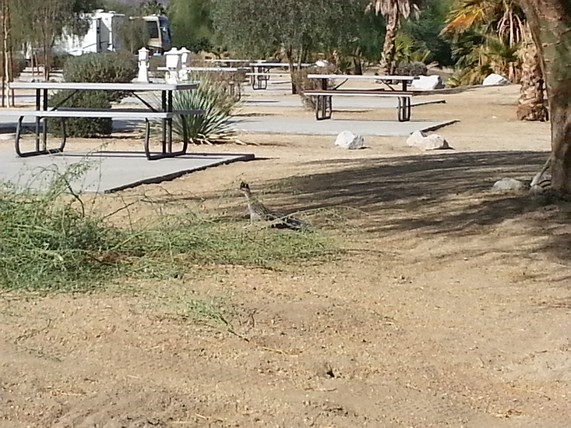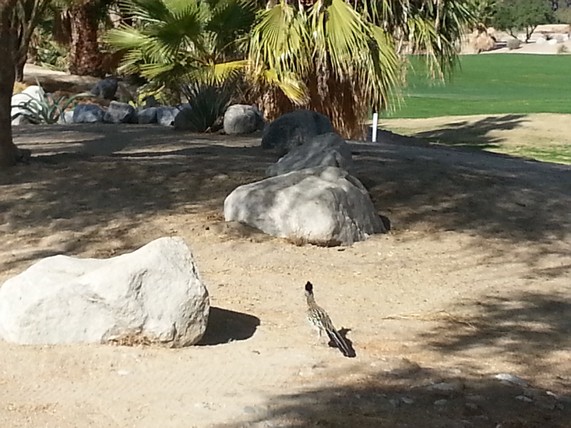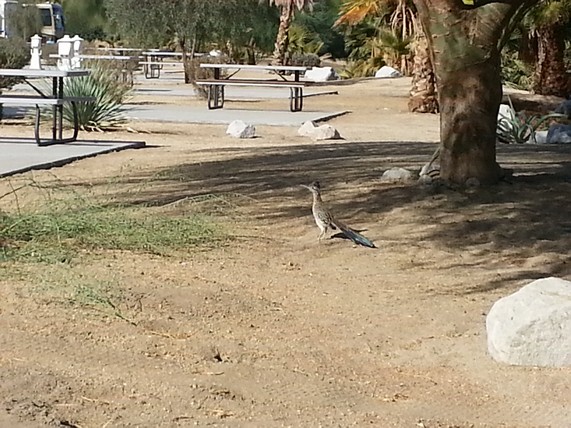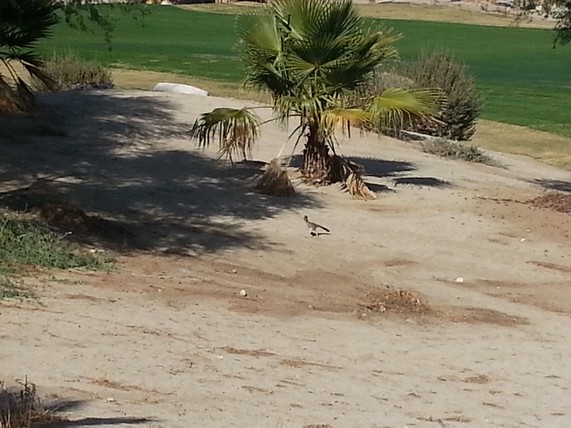 Last night we also heard the coyotes howling for the first time this visit, so we do have a bit of nature here in Borrego!
---
Saturday December 5, 2015
Settled in and Relaxing!
We are completely settled in and the relax phase of the winter has started. Murdoch has settled into a routine of 2 dog park visits per day to play with his new found friends. We've been to town a couple of times for lunch and to buy some flowers to spruce up the campsite.
We've also been walking in the desert area around the golf course and these pictures were taken to show the effect of the increased water restrictions on the course.
This won't have an effect on the golfing, but the brown areas off the fairways look similar to what we seen up north after a hard winter: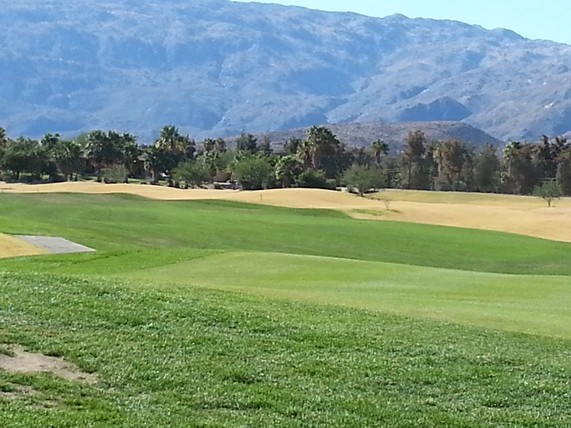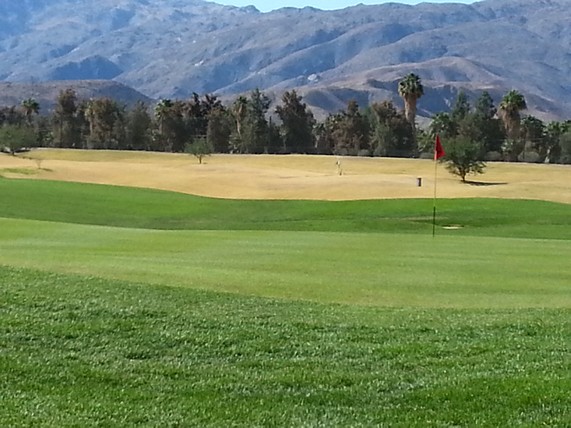 Here's hoping that California gets some rain this winter to start to rebuild the aquifers.
---
Wednesday December 2, 2015
Parked in Borrego Springs for the Winter
We arrived at the Springs RV resort before noon with the time change to Pacific time (Murdoch's clock hasn't changed yet, he was up at 4:15 am!! this morning). Most of the set up was done yesterday with the final items put out this morning, the hummers are happy that the 2 feeders went out today, they have found them already.
Murdoch is also happy, he met his playmate Lucy at the dog park this morning, they spent an hour running around and chewing on each other, he's now back at the camper and "horizontal".
The campground is very quiet as it's only about 10% full, there are some rows with no campers at all. They did have a good thanksgiving period, almost completely full. They are offering 30% discounts for short stays in December, in the new year the place will fill up.
The golf course is a bit brown in spots, apparently there are additional water restrictions, but the camp host did indicate that they did get some rain a week or so ago. It looks like hurricane Sandra didn't contribute much rain though.
A couple of initial pictures:
We have shade in the morning and sun in the afternoon. The awnings go out to give us some shade.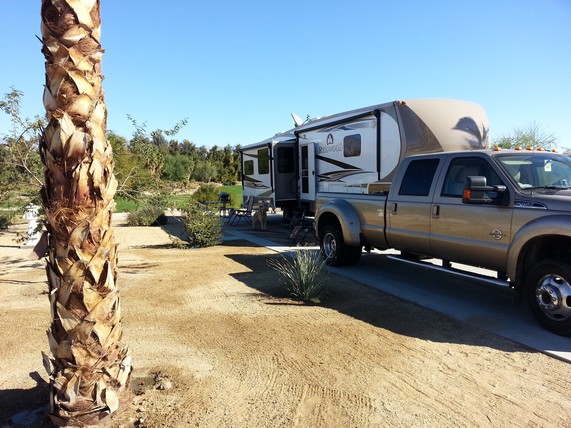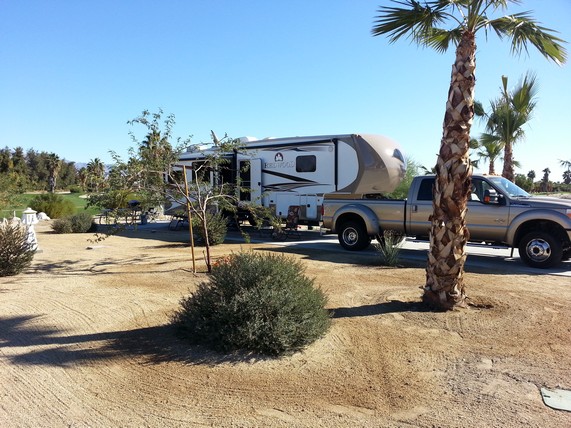 The little dash of red in the tree is one of the hummer feeders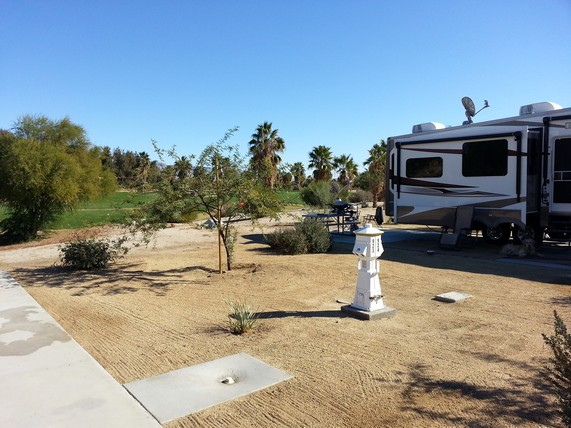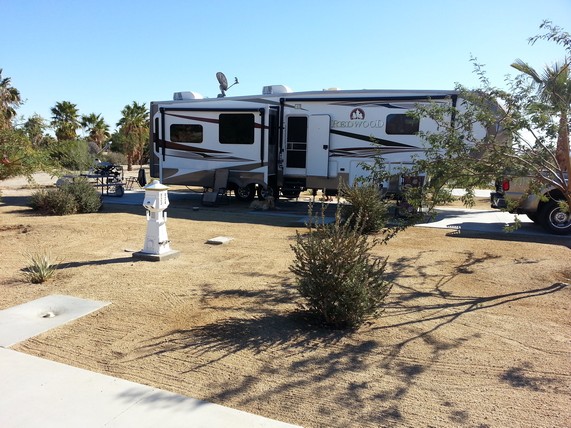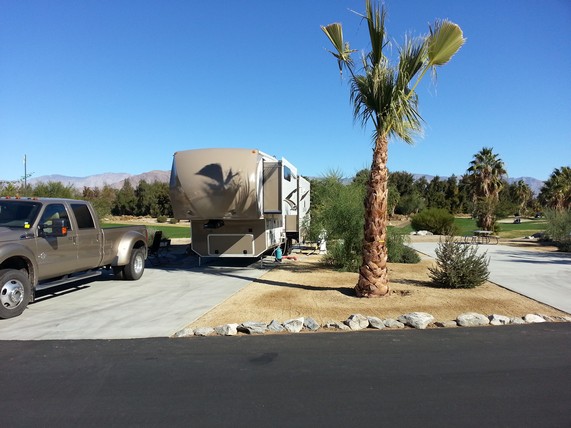 ---
Sunday November 29, 2015
Yuma
We arrived here yesterday, we decided to forgo staying at Picacho Peak fo a night as we wanted an extra day to do some shopping to prepare for heading to Borrego Springs on Tuesday morning.
We are settled and we did a large shopping this morning. Things are still "laid back" from Thanksgiving, Black Friday and Cyber Monday coming up. We wanted to hit an RV store (Camping World in Tucson and Al's RV here in Yuma), both were closed from Thursday until tomorrow. I guess their employees need to do some shopping themselves! We still haven't registered for our site. the camp office is closed over the weekend, we will register tomorrow morning.
We squeezed in to a site here, our RV is 39 ft. long and we have a foot or so of space left before the front cap interferes with the road. All the parks here seem to be the same here in Yuma, designed for shorter RV's with no slides.
That's our concrete patio behind the truck: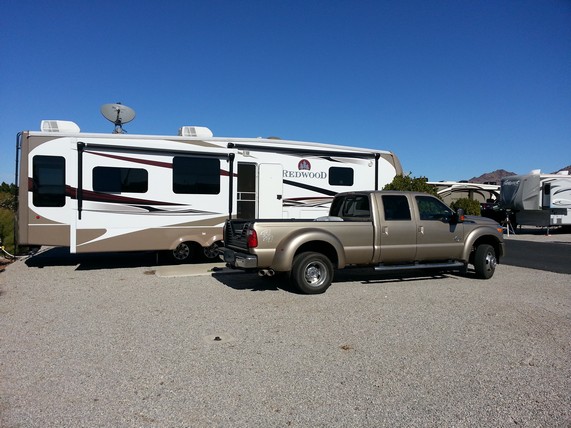 I'm standing on the patio of the site next to us, their RV would go between the slab and our truck: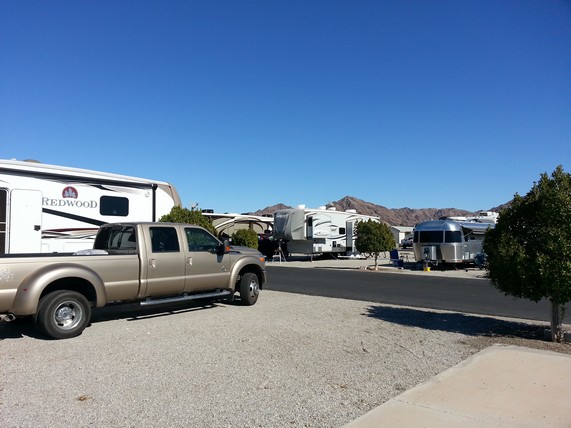 Having said my comments, Fortuna de Oro have spent some significant $$ on the park in the past 2 years and they are pushing permanent park models starting at 40K with 3 years at partial space rent as an incentive: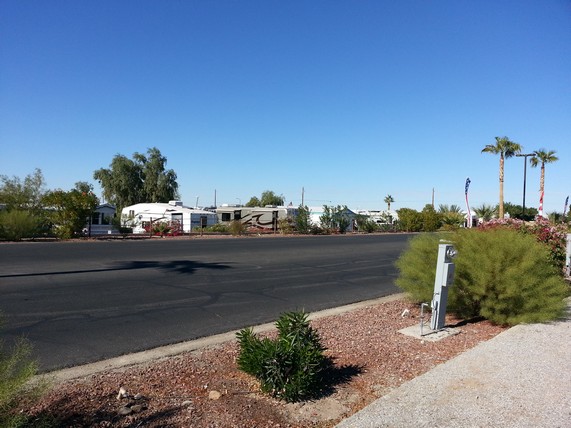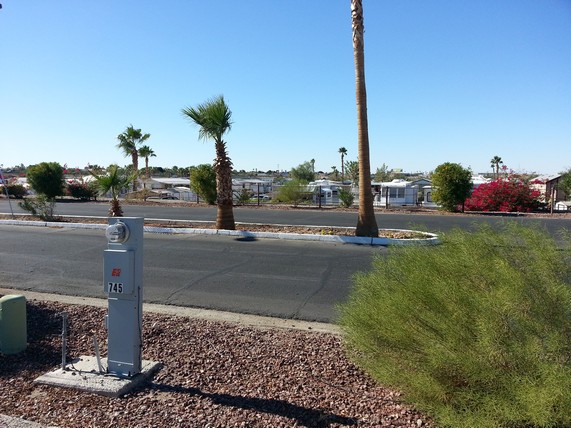 Al purchased a wifi hotspot to make life easier instead of erecting the satellite dish for internet for single night stays. It's working well and at $25 for 2 gigs a month with no contract, just buy a top up card at Wal Mart or at most stores so it's a good deal. It's from AT&T Go and we've got 4GLTE service since it was fired up in Tucson, the battery lasts about a day before it needs to be recharged and it's a USB connection so any USB charger can be used, you can also recharge it from you computer. You can get more gig allowance for more $$ as well
As a "smile of the day", you know that the locals cater to RV'ers here in Yuma, we observed a sign advertising a the services of an RV proctolagist (the correct spelling doesn't seem to be in the dictionary!). This tradesperson comes to your site and uses appropriate tools to go up the drain pipes and into the black and gray water tanks to dislodge any "debris" that is stuck there. Talk about a career (it's a great service though!)
We look forward to planting roots in Borrego Springs for 3 months starting on Tuesday!
---
Wednesday November 15, 2015
In Tuscon for the American Thanksgiving
One of the advantages of being a Snowbird is that you can celebrate two Thanksgivings, ours back in Canada before we leave and the American one tomorrow. We arrived here yesterday around noon and we've set up for a four night stay. Today we did some shopping and braved the crowds in Fry's supermarket who looked stressed doing some last minute shopping. Fortunately we bought the turkey a few days ago in Carlsbad so we needed only a few items.
We got a premium site here at the KOA (the last one that wasn't reserved!) and we are close enough to the dog park, so Murdoch is a happy camper.
A couple of pictures of the site:
The site has a small patch of (irrigated) grass, the only grass that Murdoch will be lying on for three months!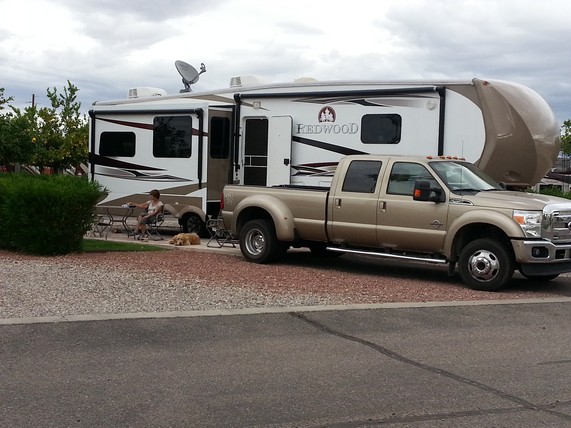 We have our own fruit tree, not sure if it's an orange or grapefruit, we will sample some fruit tomorrow: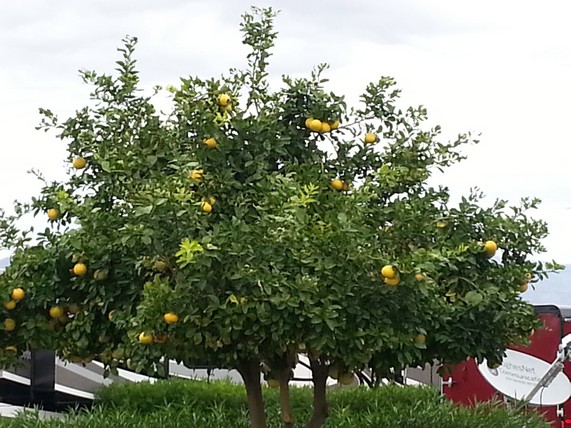 The KOA have poured some significant money into the place, last year we were sent an E-mail about a possible installation of some shade for the campers. We replied that we came here for the sun (and the satellite dish wouldn't work under a canopy) but we can understand the need for shade during the summer months and they completed the installation of two "power Parasols"over the summer: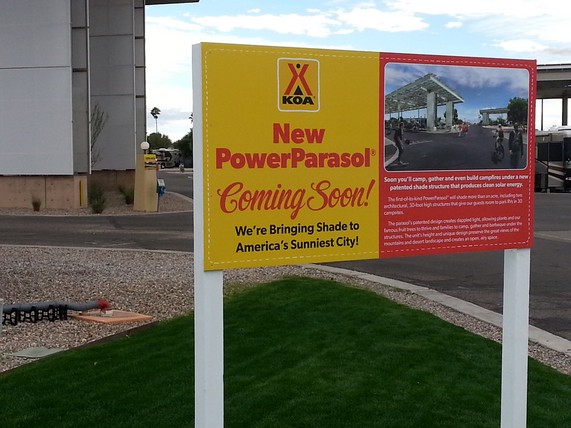 Each is 30 ft. high and takes around 10 to 15 RV spaces, the cover is solar panels with some spaces to allow some sun in, the height is to allow unimpeded view of the mountains nearby:
A view of the roof solar panels, they say that the orange trees should continue to grow: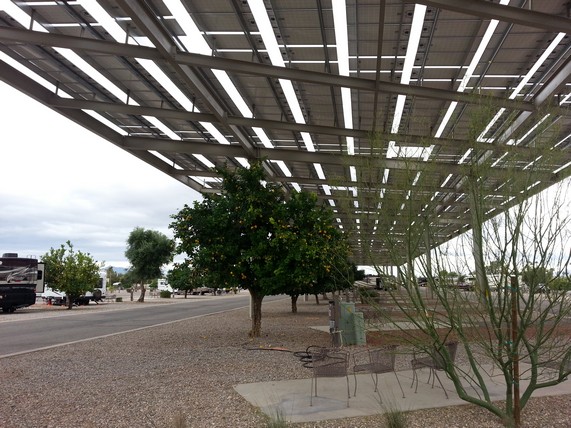 This is a picture of the other parasol taken from a distance, the RV's in the foreground aren't under the parasol: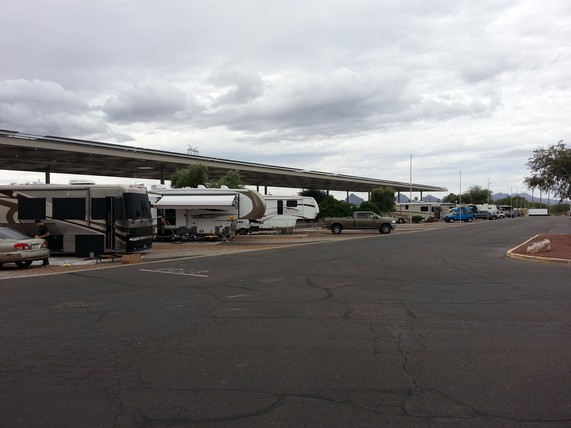 All the wiring from the panels come down the corner pylon where the electronics are located that convert the solar power to grid power: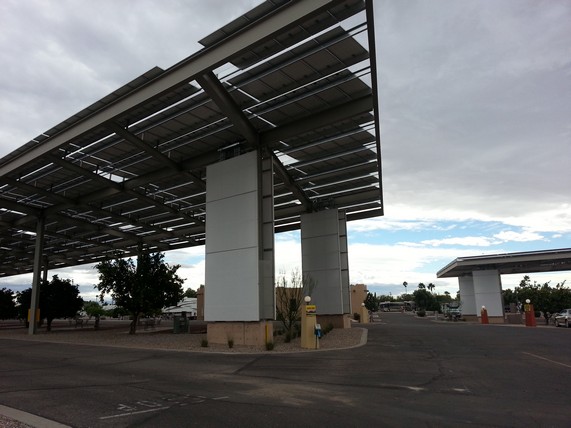 We are here for 3 more nights and we have decided to go direct to Yuma from here.
---
Saturday November 21. 2015
In Carlsbad New Mexico
We arrived here yesterday afternoon, we spent Thursday in Monahans Sandhills state park, and the day before in Ranger Texas. Both were short stops with long (for us) runs across Texas. Both days were sunny for a change and we had some outside time.
No pictures were taken at Ranger but we got a few shots with the smart phone in Monahans with Murdoch enjoying the hills.
This shot is from the hill above the campground, our RV is on the right: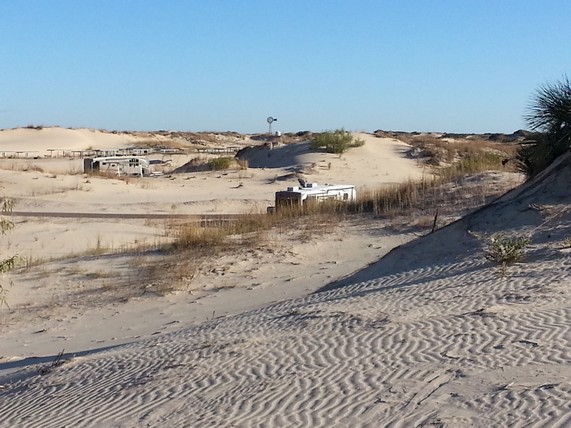 A couple of shots of the hills in the other direction, you can't quite see it but there is an oil pumper up there: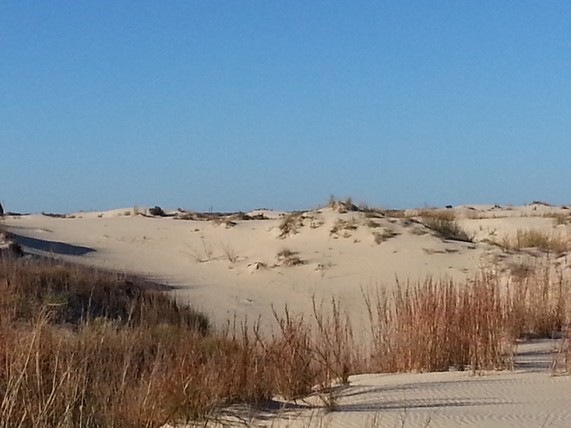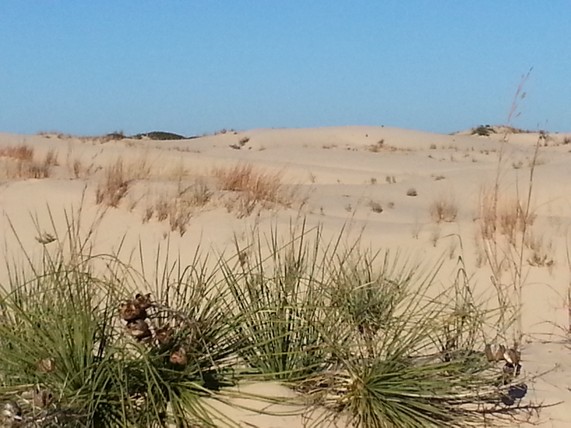 Murdoch did a couple of "running loops" in the sand, he's taking a break from the exercise: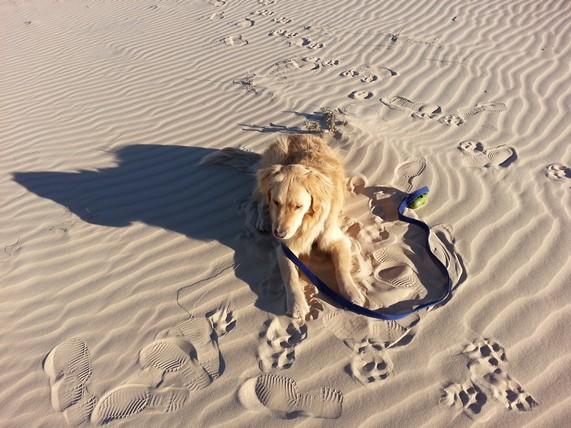 This is our patio site at the Carlsbad KOA, we are here for tonight and tomorrow night then it's off to Deming NM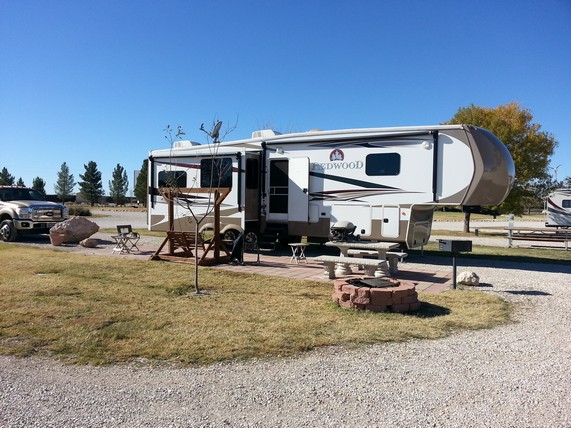 ---
Tuesday November 17. 2015
Waiting out the rain
We are waiting out the rain (and a Tornado and flash flood warning!) today. It got a bit green earlier this morning and the wind came up, so the internet dish was stowed just in case. It also went from 21C to 13C in 3 hours or so and we got some heavy rain. Fortunately there didn't seem to be any tornadic clouds so we lucked out.
A couple of pictures were taken yesterday showing the rain we got in the campsite:
This looking out the front: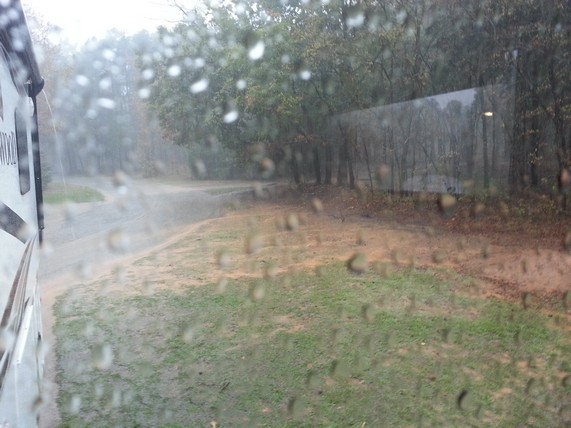 and the back: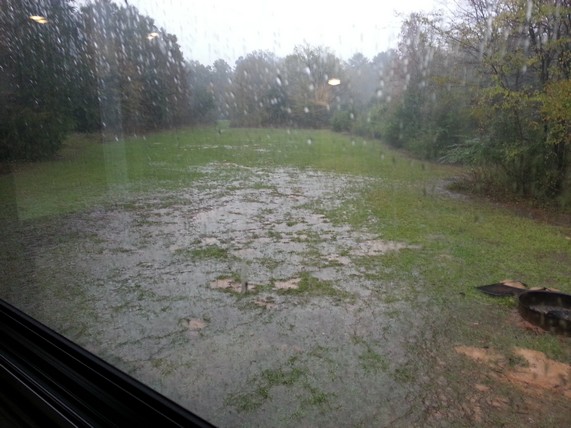 If the rain clears we hope to be on the road crossing Dallas tomorrow morning en route to west Texas.
---
Monday November 16, 2015
In Texas
We are in Lake Bob Sandlin State Park near Mt. Pleasant Texas, we arrived here from DeGray Lake State Park in west Arkansas where we stayed last night. We didn't have internet access (Al was too lazy to erect the dish) but we did have sat TV as the lady at the reception looked at Suzette's limp walking gait and gave us a handicapped campsite for the night. DeGray and Bob Sandlin were very busy over the weekend, there was a campsite full sign out when we arrived here this morning. It may be a weekend thing or just the good weather. As this is being written, we are the only ones in our loop, so it must be the weekend effect.
A couple of pictures from DeGray: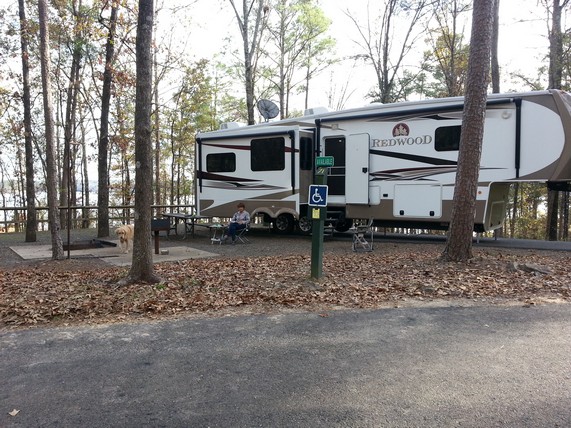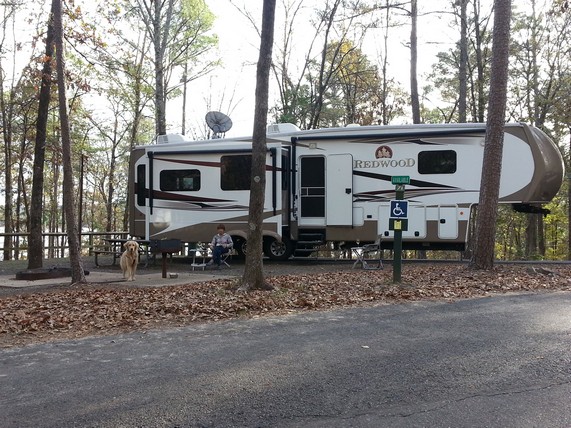 Here at Bob Sandlin it's overcast and rain is expected tonight. There is over an inch of rain with severe thunderstorms expected on Tuesday so we plan to stay 3 nights and wait out the rain, we don't want to travel through Dallas in the rain.
Our favourite site at Bob Sandlin: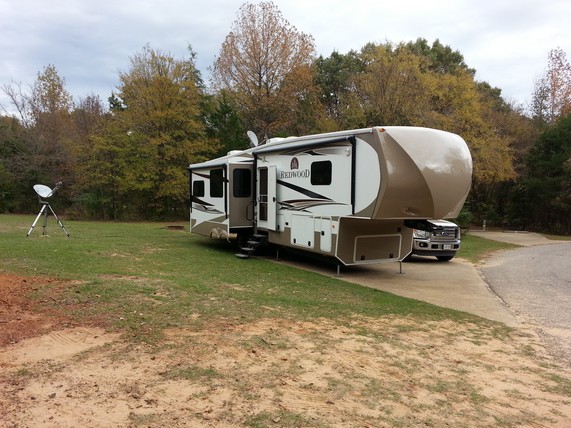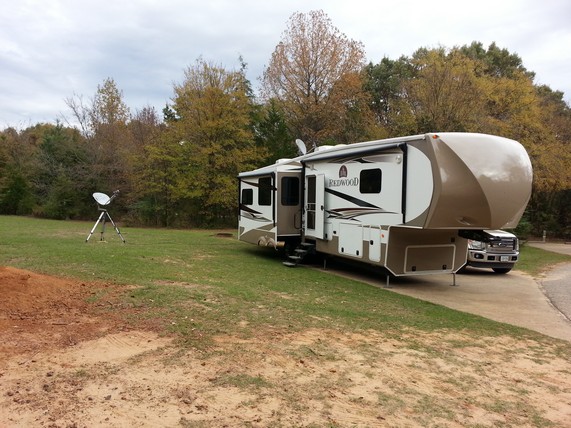 ---
Friday November 13, 2015
So it's Friday the 13th, don't you know!
We are in Village Creek state park near Wynne Arkansas, just west of Memphis Tennessee, we got here yesterday and have settled in.
Yes, it's Friday the 13th all right! We went into Wynne this morning to shop and get gas, when filling with diesel at a Murphy station (with a name like that you know what's coming, right?) the pump stopped just at the fill level but wouldn't reset or produce a receipt. The lady at the kiosk was calling the office for assistance, she could sell stuff but none of the pumps were working. Who knows, we may even get a free tankful of diesel!
So, we got back home and the power was off to the campground (and it still is 2 hours later), it's also probably what happened in Wynne. Al had planned to exercise the generator anyway so this time it's getting a real workout. There is a wash in the clothes washer an 2 loads have gone through the drier, all on generator power. To top things off, the generator ran out of gas a few minutes ago when posting to this blog, so the entry was lost. Al doesn't want to put a lot of gas into the unit because it gets so little use and the gas gets old. Definitely an "Edsel Murphy" day!
A few pictures:
We got a nice back in site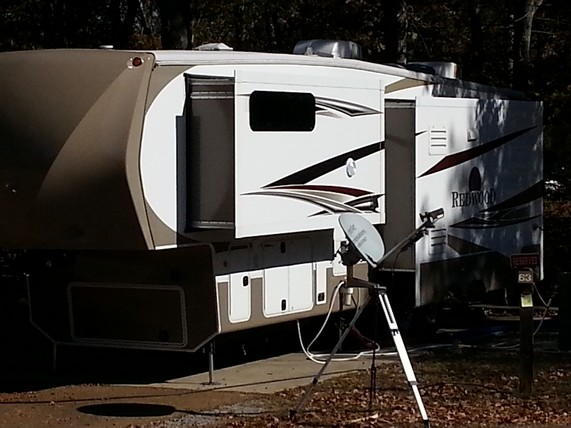 Murdoch is having a field day with all the acorns, all the brown in the picture is crushed acorns, and some have already come out "in the end" if you know what I mean!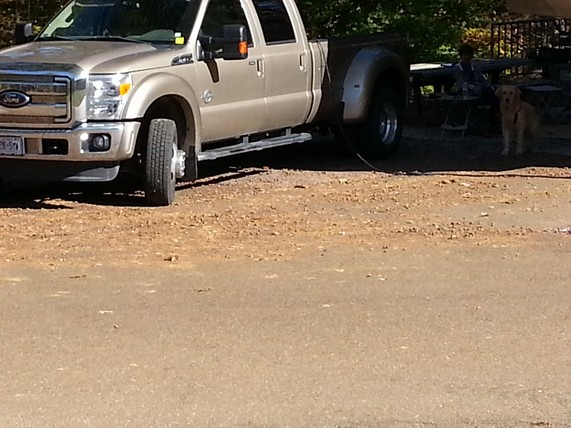 The trusty Honda running along in the pick up box.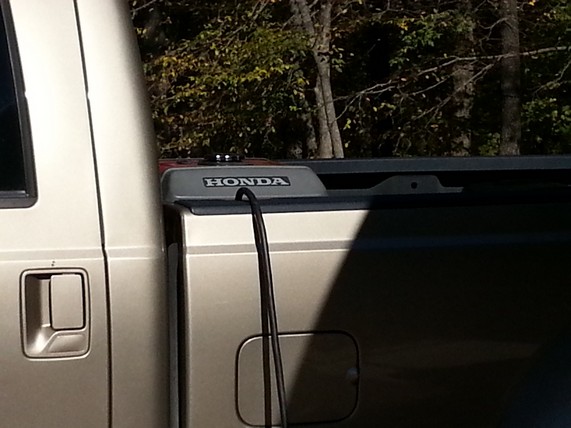 ---
Wednesday November 11, 2015
In Tennessee they do things differently!
We are enjoying our second day here, the weather is "short sleeves" weather, in the low 20's C with a light breeze and lots of sunshine.
Al was walking Murdoch yesterday and saw this TV dish: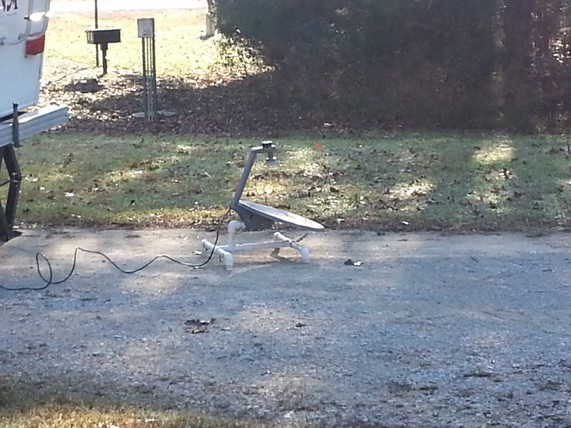 This is the first time that a dish has been seen mounted horizontally, not sure how the setting parameters would have to be changed to aim the dish but it would be a lot better in windy conditions (not so good in snow though!)
---
Monday (no, it's actually Tuesday!) November 10, 2015
Natchez Trace State Park
We are here for a couple of days of relaxation, we arrived before noon as Murdoch got up before 5 am and as a result we hit the road early.
We are set up and enjoying the sun and (almost) warm weather outside. We are in our favourite site as shown below:
Murdoch is investigating something under the RV and Suzette is doing some reading.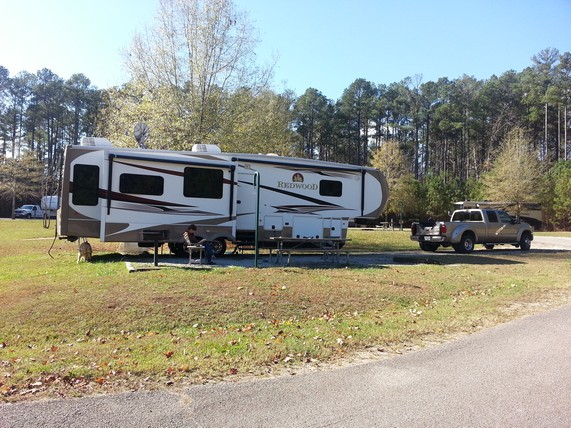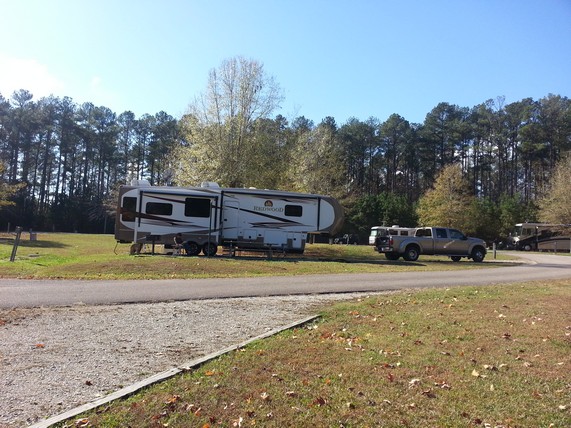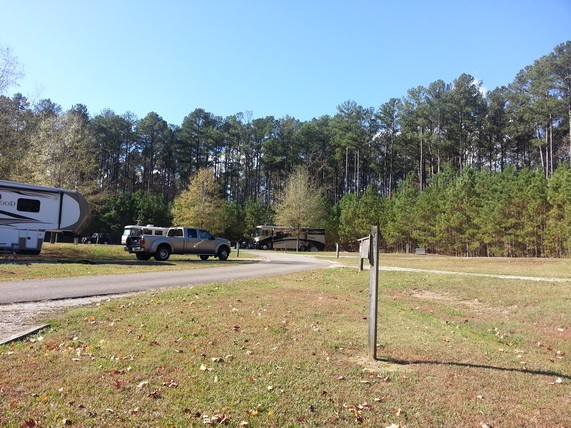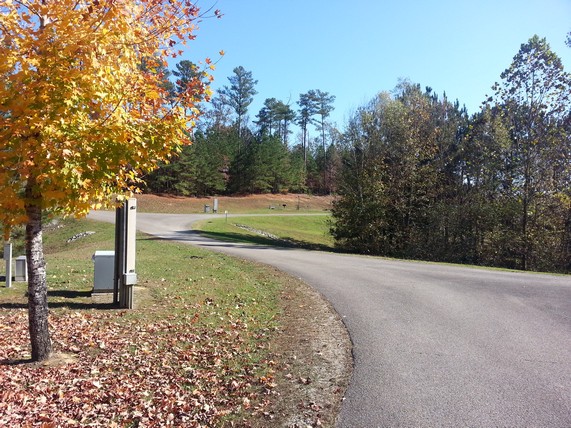 ---
Sunday November 9, 2015
In Bowling Green Kentucky
After a couple of nights on the road (Monroe Michigan, Fort Wayne Indiana and Columbus Indiana) we are spending 2 nights here in Bowling Green Kentucky. The weather overnight has actually been cooler than back at home but today we had an opportunity to spend some time outside on the patio as we arrived early (we are now on central time).
A couple of pictures:
This was our site at Harbortown in Monroe Michigan: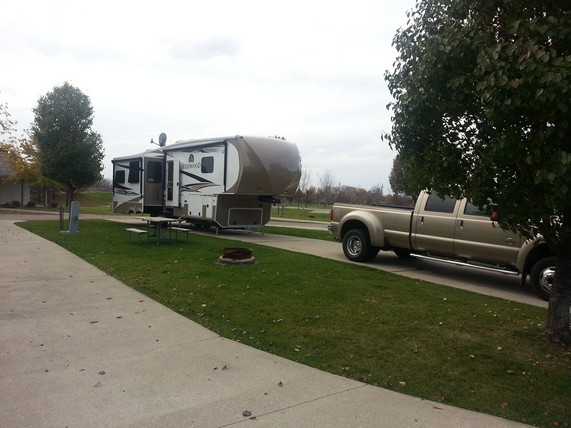 This is our site here in the KOA in Bowling Green: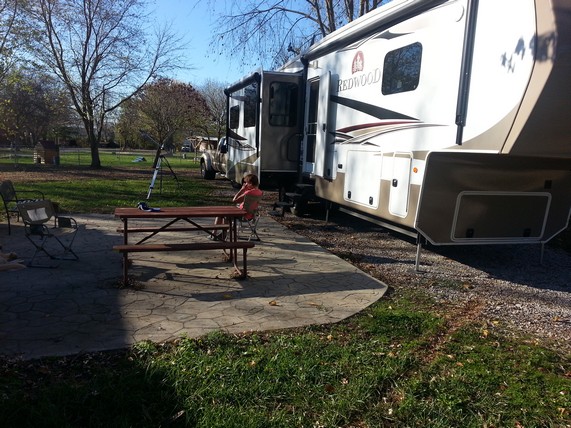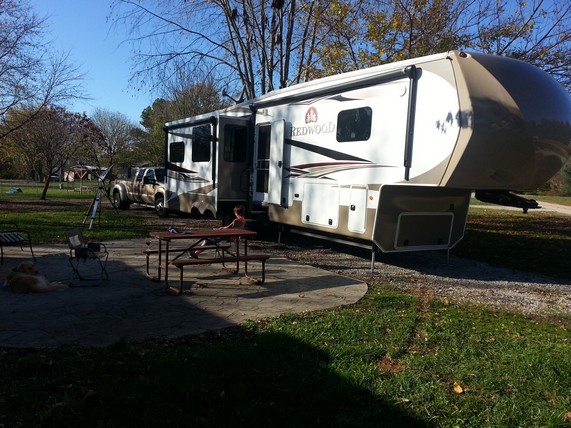 We will relax for a couple of days and stock up on food. The posts have been short so far as Al has been fighting the dual "whammies" of a new computer (the photo resizer hasn't been working well and the spell check isn't working yet!) and Windows 8.1!
---
Thursday November 5, 2015
Back on the road!
We got the RV back yesterday. turns out it was a bad "eyebrow" panel on the front of the refrigerator. We packed and hit the road this morning. We are in Monroe Michigan where it's in the low 20"s and we are enjoying the almost summer weather. More to follow!
Tuesday November 3, 2015
Testing, Testing!
Well, the RV and our patience is being tested! The RV went back to the dealer yesterday to repair the fridge. There are 3 circuit boards on it, each was replaced with a new one from an identical fridge from a new RV on the lot - no luck, fridge still doesn't work! After 2 hours the technician took a break for lunch and he was calling the fridge manufacturer (Norcold) when All left for home. we are awaiting a call to pick up the fixed RV. At $60 in diesel fuel for the trip to and from the dealer, the oil companies are the only ones that are enjoying the experience. The beat goes on!
---
Saturday October 31, 2015
Sometimes we are meant to be tested!
Well, good news and some bad news! We got the RV back from the dealer yesterday (finally!) and the good news is that most of the work is good. Two pieces of bad news though.
First, the painting of the front cap was a failure, some fisheyes are visible and the paint shop forgot to paint the underside of the cap at the front:
Looks good from a distance (but no decals installed):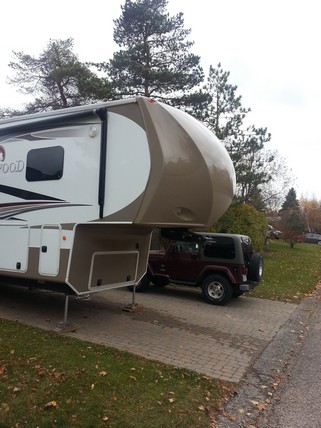 Notice the hazing at the bottom: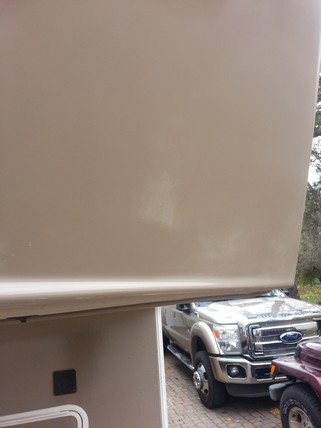 The bottom didn't get painted!
In defense of our dealer, he didn't do the painting. it was sent out to a paint shop, and it's a warranty item from Redwood so it will be re-done in the spring, the decals weren't put on by the dealer as he knows the re-painting was required.
The second piece of bad news is that during the preparations today, the refrigerator wasn't working. After a couple of hours of testing, Al's conclusion is that it's a bad circuit board, so it's back to the dealer on Monday. Here's hoping that Edsel Murphy doesn't intervene - i.e.: no replacement circuit board at the dealer!
We had hoped to be on the road on Tuesday after Halloween, we will see! As it stand, more miles will be put on the RV to and from the dealer than we would normally do getting well into the states!
---
Thursday October 8, 2015
Getting prepared!
We are starting to think about packing the RV and all the rest of stuff we have to do to head south. We've had 2 frosts already and the leaves are dropping, so it's almost time to go!
The RV is presently at our dealer for some maintenance and warranty work and we are preparing for Canadian Thanksgiving this weekend (with 12 coming for dinner!).
Plans are to leave just before or just after Halloween depending on the weather and how the packing goes.
Stay tuned!