Tuesday April 20, 2010

Found the Gecko!


After relaxing for a few days and attending Suzette's fathers funeral, it was time today to get moving and start cleaning the RV after the trip. During the cleaning, Suzette found the little guy (dead unfortunately) near the rear window.
We suspected that he was still with us on our trip all the way north as he had left some "deposits" that are apparently unique to geckos, they are white in colour.
I think that the below freezing weather that we have had for a couple of nights in the past week did him in. Perhaps I should have left the heat on for him!
---

Wednesday April 7, 2010

The RV is back in the driveway


We got back home today after the 430 KM. trip from Monroe Michigan. We really lucked out on the trip north this spring, we had no rain during the days until today just before we reached home, it was a great return trip.
Some trip stats:
Total KM. Traveled: 15,700

Total fuel cost: $2,500.
Fuel economy: 14.9 miles per Imperial gallon

Total Mexico spend: $8,200 CAD
The spend was a bit higher than past years due to the parts and labour for the attempted repair of the outboard motor (about 3600 pesos) and the import duty (900 pesos) on the outboard motor incorrectly charged by Mexican customs.
As indicated in previous posts, we will monitor the violence situation in Mexico this summer before making a decision to return next winter. We would love to go back but the increasing level of violence is a concern, more tourists are being affected than in previous winters.
---


Tuesday April 6, 2010

Last Evening on the road!


Today we are Harbortown RV resort in Monroe Michigan, tomorrow we make the hop across the border and head home.
It's been a very warm and breezy day here, the temperature is still just below 80F in the evening. Rain was forecast but it didn't happen, the sky is clear.
We will cross at Port Huron and we should be back home mid afternoon tomorrow.
---


Monday April 5, 2010

In Garrett Indiana


We are in the Fireside Resort RV park south of Garrett Indiana, we spent last night in Columbus.
We relaxed here today and took in a Mexican restaurant (our favourite restaurant here is closed on Mondays), tomorrow we head for Monroe Michigan, then on Wednesday the RV is back in the driveway!
---

Saturday April 3, 2010

In The Bowling Green KOA


We made it into Kentucky after lunch today, it's quite busy here in town because of the Easter weekend.
It's a short stop, tomorrow we head for Columbus Indiana.
---


Friday April 2, 2010

In Natchez Trace State Park near Jackson Tennessee


We arrived here around noon after an early start from Village Creek. We are glad we did because the campground here is quite busy, virtually all the sites filled up as it's the Easter weekend.
We will head to Bowling Green Kentucky tomorrow.
---

Thursday April 1, 2010

Some pictures!


Today we relaxed, did some laundry and walked around.
Some shots:
Our usual campsite: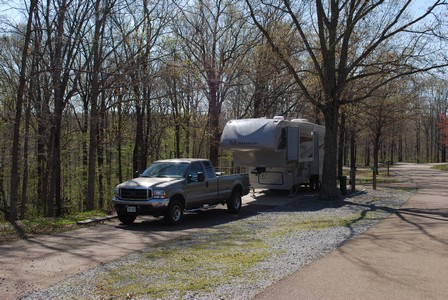 Taking a walk and shedding some sweaters: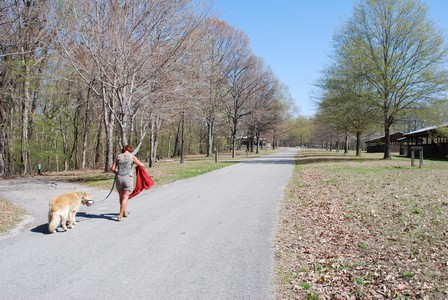 A view of the equestrian area for the horses, great stables!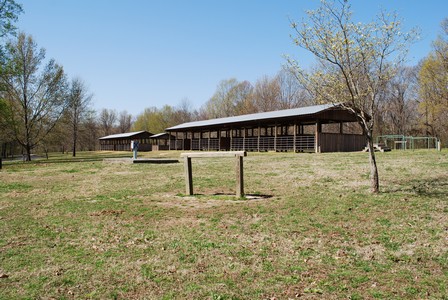 Some of the adjacent campsites: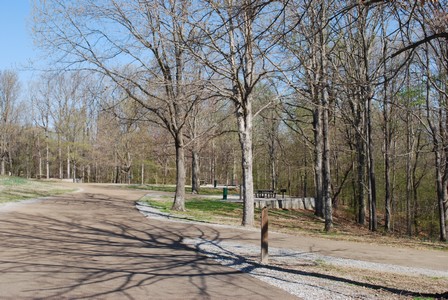 Suzette took a shot of what we think was a bluebird: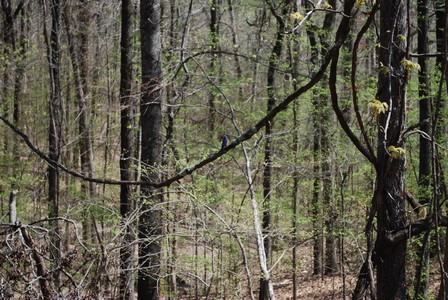 ---

Wednesday march 31, 2010

Village Creek State Park near Wynne Arkansas


We arrived here after a relatively short drive from De Gray Lake SP in western Arkansas, we couldn't get on-line yesterday because of the trees.
We have set up and done some shopping in Wynne, we will stay another day to relax and do some laundry.
---


Monday March 29, 2010

Lake Bob Sandlin State Park - Mount Pleasant Texas


We are in eastern Texas close to the Arkansas border after a good run from Ranger, the passage through Dallas Fort Worth was uneventful. The temperature leaving Ranger was cool, it was at the freezing mark when we got up with some frost on the ground. Here in Mount Pleasant it's warm with no breeze, we sat out in shorts during the afternoon.
We leave tomorrow morning for Arkansas.
---

Sunday March 28, 2010

RL RV Park near Ranger Texas


We stopped at this RV park when we had problems with the truck on our way down, we decided to stop here on the way back because it's close to the highway and the park entrance lady at Abilene State Park is such a pain to deal with that's it not worth the hassle to stay there.
It was a long 430+ KM. trip here from Monahans, we fought 25 MPH cross winds all the way, the fuel economy for the day is down about 1 MPG as a result.
It's a good one night stay, we have full services for $20 and the park owner is friendly and the services are good.
Tomorrow we head for Bob Sandlin Lake state park in east Texas, this makes a fast traverse of the state for us.
---

Saturday March 27, 2010

Monahans Sandhills SP - Monahans Texas


We arrived here in the early afternoon, it's a relatively short run from Carlsbad even though we lost an hour (we are now on central daylight time)
Back in Carlsbad there was a wind warning yesterday and we lost the sat connection as the dish was blown off the sat's location twice (although it didn't fall) so we finally gave up and stowed the dish away. I have posted some pictures below, including the effects of the wind (i.e.: dust!)
In addition to the wind warning there was a fire warning, the high winds in addition to the 10% relative humidity make fires a real concern. In fact, it's so dry that my heels are bleeding from the cracks in the skin caused by the dryness.
This year in Monahans it's very quiet, only a couple of campers and no day use folks, a dramatic change from last year at March break time when the place was full.
Both yesterday and today the wind has bugged Kasey, he's been in the trailer because he doesn't seem to like the wind (it doesn't help that I'm sitting typing and eating a late lunch, Kasey is hovering close by!
We head for central Texas tomorrow, we are stopping in an RV park close to the highway to reduce the Texas transit time by one day.
A couple of pictures:
We have the same site as back in the fall: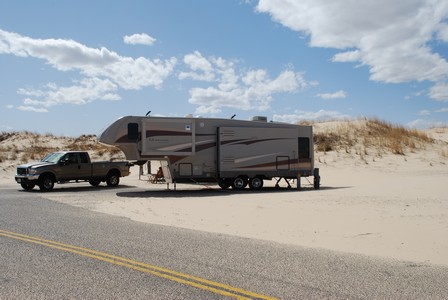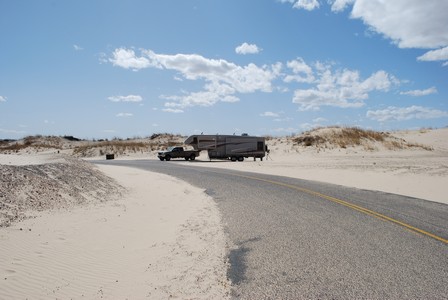 Some hardy tenters!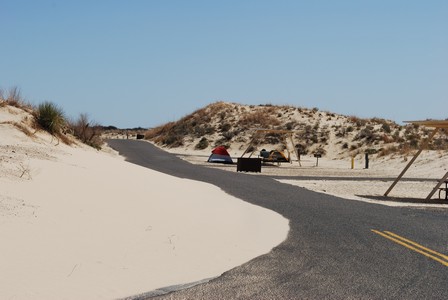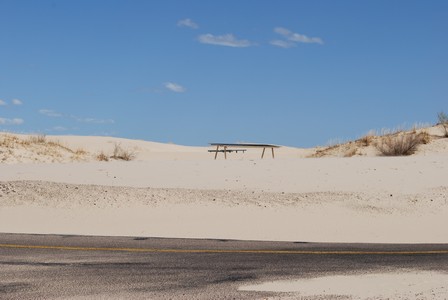 ---

Friday March 26, 2010

In Brantley Lake State Park - Carlsbad NM


We arrived here after a 450+ KM trip from Deming, it's probably the longest single leg that we do on the trip, with a loop around El Paso Texas.
We are settled in, it's warmer here than in Deming although we still need some heat overnight. We shopped earlier today and we move tomorrow into Texas. The next few days will be one night stops as we want to start moving more quickly towards home.
Some pictures:
The campsite: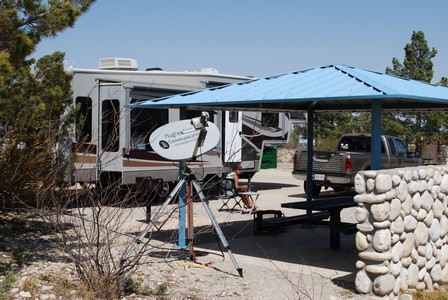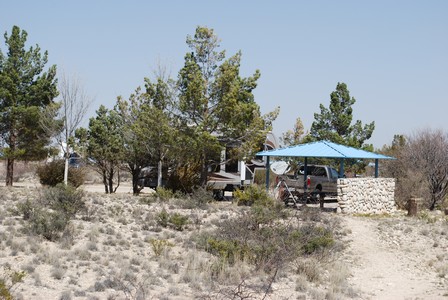 The "before" shot of the dam before the wind storm: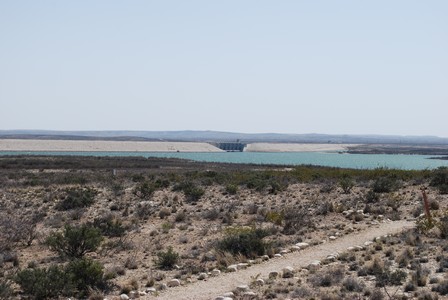 A similar shot during the wind (it actually got worse, we couldn't see the dam for the dust):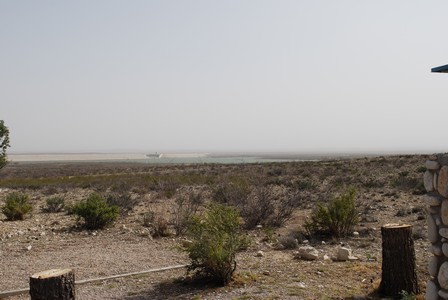 ---

Wednesday March 24, 2010

Last day in Deming


Today Al enjoyed a great Hamburger with Chuck while Suzette hiked with Kasey back at Rockhound. A propane cylinder was also refilled in town, although we haven't used a lot of propane this winter we will start to use more as it's scheduled to go below freezing here tonight so the furnace will be running.
Suzette took some pictures on her hike:
They recently had some now and rain here, some of the flowers have bloomed: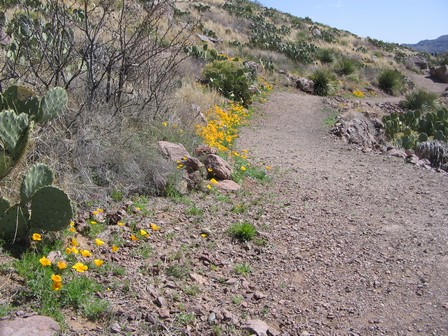 A nice view of the campground from the hiking trail: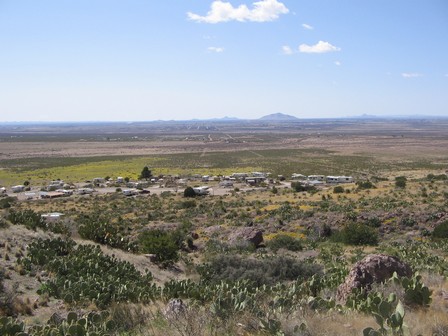 ---

Tuesday March 23, 2010

In Rockhound State Park - Deming New Mexico


We arrived here around 2:00 PM daylight savings time, we lost an hour going from Arizona (which doesn't recognize daylight savings) to New Mexico. In another few days we will lose another hour when we move to central time in Texas.
When we arrived there were 3 sites left, the park host indicated that the park is full each night from October to about May. We prefer it here compared to the RV parks in town although the wind blows a bit stronger as we are up a bit higher. Tomorrow I visit with Chuck, we will share a burger together for lunch.
Some initial pictures:

Yes, that's snow on the hill behind the RV: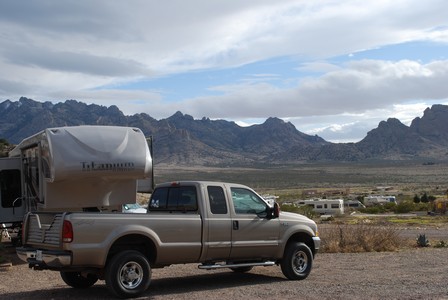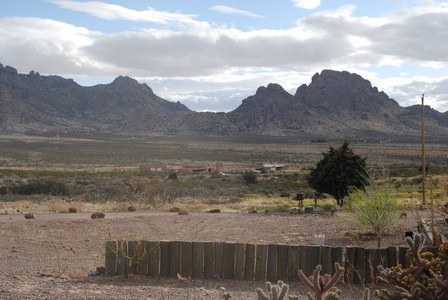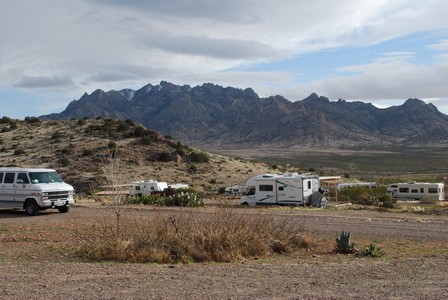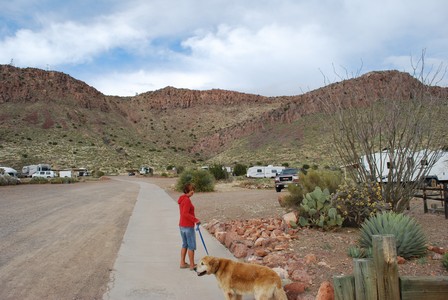 ---

Monday March 22, 2010

Last day in Tucson


Today we did some final shopping and we enjoyed a meal at the restaurant on-site here, some initial packing was also done to lighten the load tomorrow morning. We head for Deming NM, we will spend a day or two there then head for Carlsbad. We need to start making some tracks as we want to be back home before mid April.
I took some pictures of the campsite: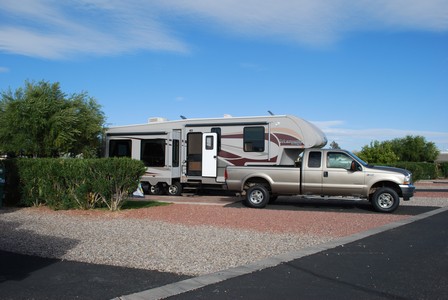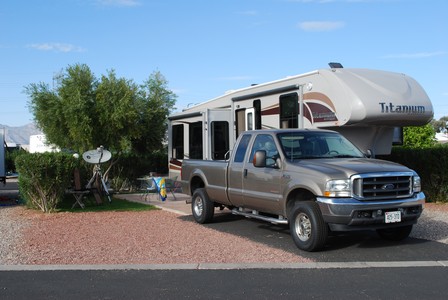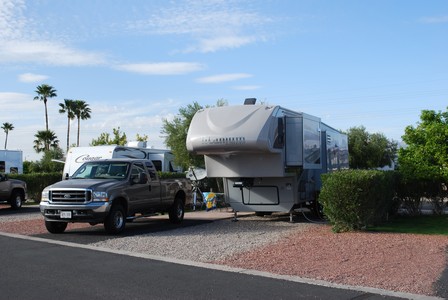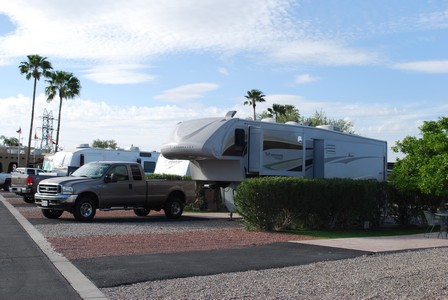 There are only two things that we don't like about the site, the water sprinkler system comes on at 4:30 PM (but we get off the lawn before this happens!) and there is no ocean close by, otherwise it's perfect!
---


Saturday March 20, 2010

Air Show!


Today the air conditioning on the truck got fixed, it turned out to be a shorted out wire that resulted from the problem caused by the seized belt tensioner back in Texas in December.
In the afternoon we had a great view of the air show, it's run from the military base close by. I'm not sure which team these planes are with, perhaps the Blue Angels? I'll check the web for information as a second show occurs tomorrow: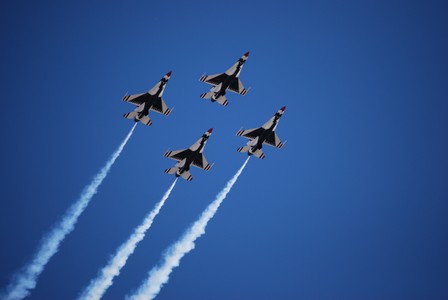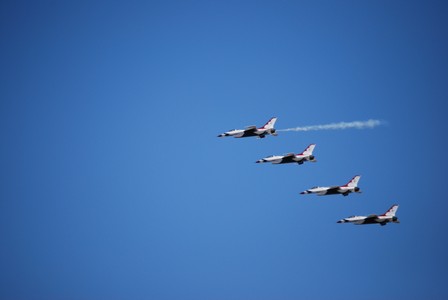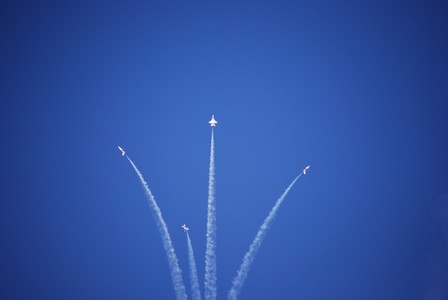 ---


Friday March 19, 2010


We moved to our reserved site in Beaudry today, most of the Monaco rally crowd left. Al got new tires on the truck and we also did some grocery shopping (and we also squeezed in some lunch at the restaurant) so things are good!

Tomorrow there is an air show over at the military airfield close by so we get a free show! There was lots of practicing going on today, we saw the Blue Angels practice.

Also, tomorrow morning the Ford gets it air conditioning looked at.


---

Thursday March 18, 2010

Back in the USA!


We are in Tucson at Rincon Country West RV Resort in Tucson. We tried to get into Beaudry but there is a Monaco RV rally there and the place was full. We will move over to Beaudry tomorrow as we reserved a site after seeing this place, as it's a bit of an asphalt jungle with over 1100 sites and it's only for over 55 year old folks.
It took over an hour and a half to get through the border today, no issues, just slow.
Some pictures:
Lots of asphalt!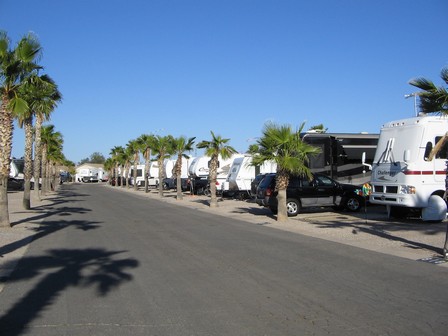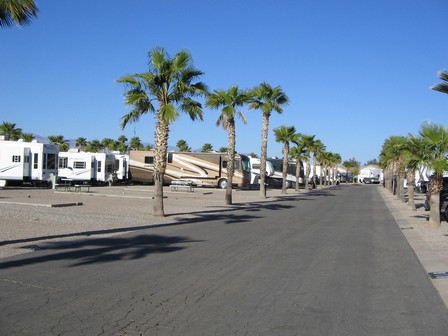 They restrict pets to a few sites and you can't go beyond the sites to walk your pet!
Some of the reasons we moved to Beaudry today!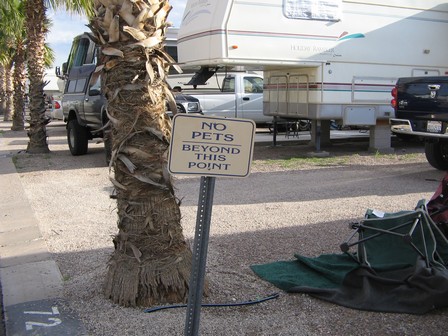 ---


Wednesday March 17, 2010

Punta Vista RV Park, Santa Ana Mexico


We are back at Edgar and Ana's place, we cross back into the USA at Nogales tomorrow morning. It's traditional here that we try to eat foods so they are used up, the ones that are prohibited from the US. We are making potato salad (cooked potatoes are OK) and we have some chicken nuggets that will accompany the salad. The ham slices will get thrown out but the beef is OK.
There are a few items to purchase for repairs in Tucson, we will be there for a few days.
---

Tuesday March 16, 2010

Pictures!


This morning we got a better look at the hotel property and we took a few pictures. We are enjoying our (too short) stay here, it's a place we will return to on future trips.
The RV slots are at the rear of the hotel, they have concrete patios, 30 amp power, sewer and water: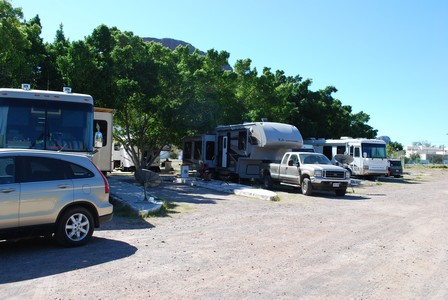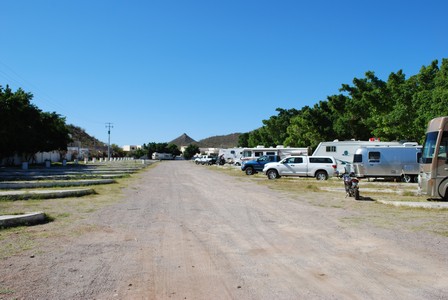 The entrance to the hotel: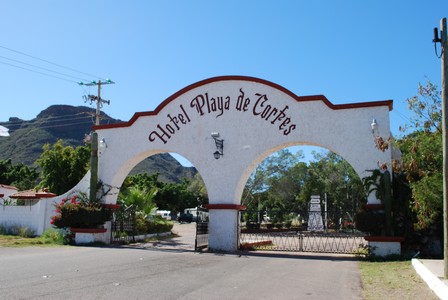 The reception area: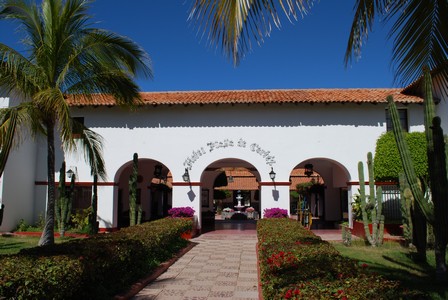 Courtyard near the reception:
A view of the ceiling near the reception area: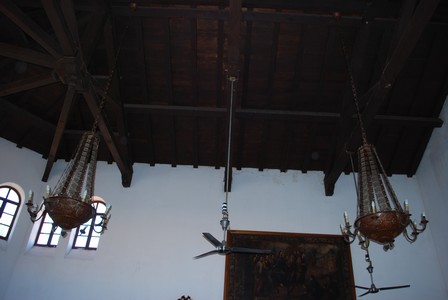 The patio outside, a large outdoor wedding occurred here on the weekend: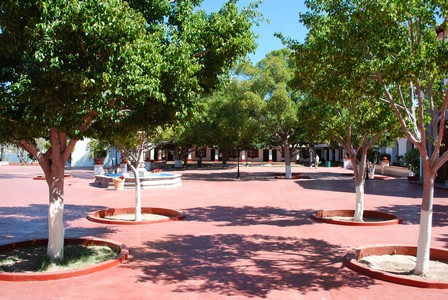 A pretty girl sitting on the fountain on the patio, the flowers in the fountain were left over from the wedding: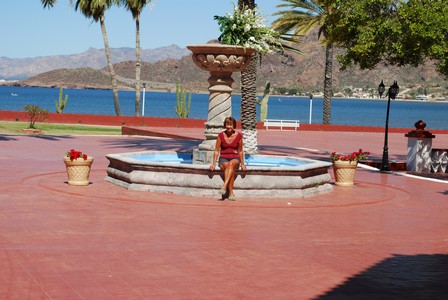 The area around the pool: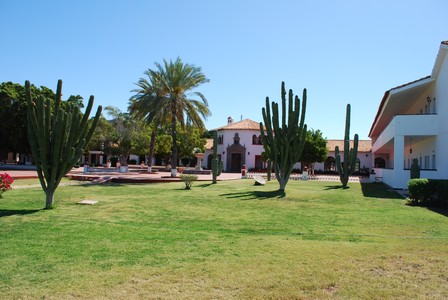 The view out onto the sea of Cortes, San Carlos can be seen in the distance: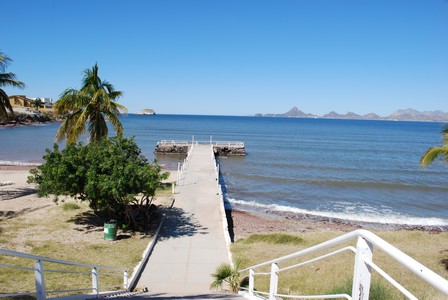 Some rooms near the front of the hotel: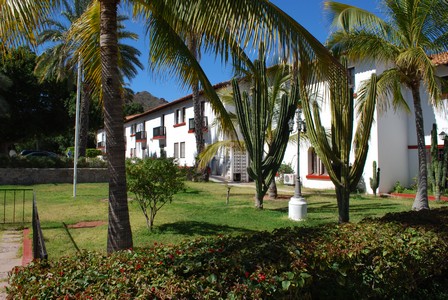 ---

Monday March 15, 2010

Playa de Cortes Hotel & RV Park - Guaymas Mexico


We arrived here after 1:00 pm after an uneventful trip from Huatabampito. We had a great stay at El Mirador, yesterday we met a local Mexican family and had some great conversations (sometimes using sign language). The head of the family is a police officer in Huatabampo.
This hotel is an old railway hotel, different archetecture but in some ways similar to the Canadian Pacific hotels back in Canada, with lots of wood and high ceilings. Some pictures will be taken to show how great this place looks.
---

Saturday March 13, 2010

In Huatabampito


We are in El Mirador RV park here, we arrived yesterday afternoon, a couple of hours after we arrived our friends Ron & Patty arrived and we celebrated happy hour with them. We decided to stay for 3 nights and move to the San Carlos area on Monday which just happens to be a national holiday here (Benito Juarez birthday).
I'm not sure if it's part of the celebration, but we've been seeing folks dressed up as devils, we caught a few on the beach here today: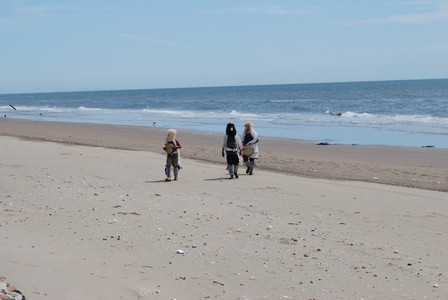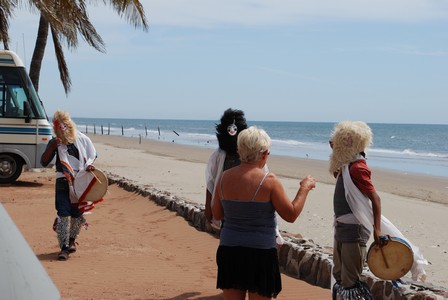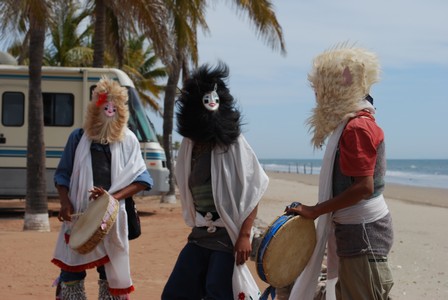 ---

Thursday March 11, 2010

Adjusting to the Cooler Weather


We are here in Las Glorias at Mr Moro Hotel & RV park, we arrived yesterday afternoon. There was an advisory about a protest march on the toll road between Mazatlan and Culliacan, but it must have reached it's destination as we had a good drive on a very quiet highway.
It's been cooler during the past couple of nights and it's still windy during the days, since the camper temperature is in the low 60'sF in the morning we've actually put the heat on to warm up. It doesn't help that we have completely adjusted to the warmer climate. This morning we both had our jackets on outside (but we are still in our shorts!).
As usual, we enjoyed a great seafood dinner in the restaurant here, we had cheese stuffed bacon wrapped shrimp, the portions were generous, there are 3 or 4 in the fridge for nibbling this morning.
I took a few pictures:
We got a site on the right side of the hotel, we are by ourselves and somewhat sheltered from the wind: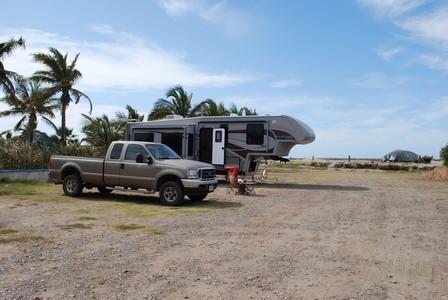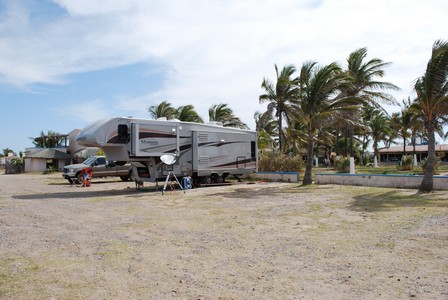 You can see by the sand build up on the fence that it's been windy, the fence is about three ft. high: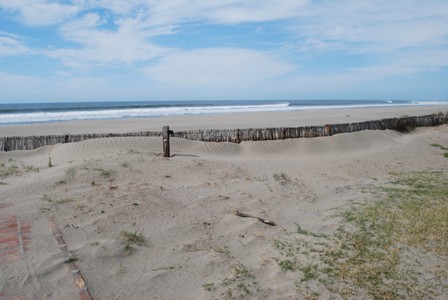 The sand is very smooth on the shore:
Looking at the half dozen or so campers on the other side: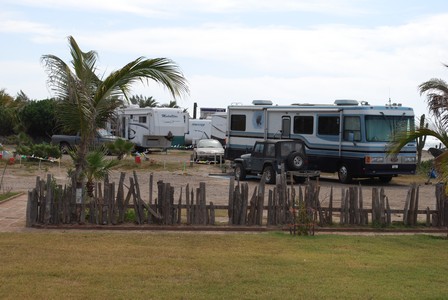 They plant corn to hide the wall, it makes a great break and the birds feed on the ears each morning: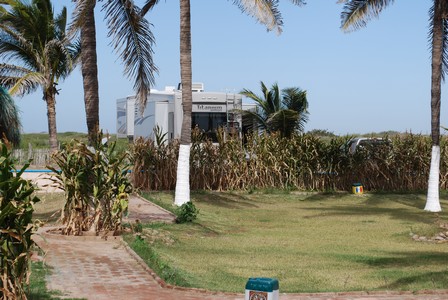 There is a tent camper from western Canada inside the courtyard: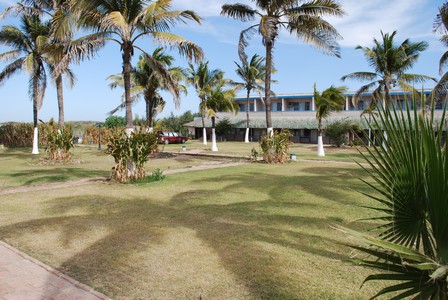 A dog free for the taking!

As indicated in previous posts there are a number of wild dogs around the camp, although we've only seen one this spring upon our return. As usual, Suzette has reacquainted herself with the little girl who someone named "Nikita", she is about a year and a half old. The campers feed these animals when we are around, and when we aren't here they survive on restaurant scraps and they forage for food.

This morning we walked the beach and the little girl grabbed a bag of something on the beach and carried it back to her den at the hotel.

A couple of pictures:




For the price of a vet bill (cheap here in Mexico) you can get all her shots and a certificate of good health so you can take her back home with you. They make great pets, they appreciate the good life with their new owners after surviving down here.

And Al says NO to Suzette, one dog is enough!!




We move back to Huatabampito tomorrow.
---

Tuesday March 9, 2010
In Punta San Miguel RV park - Celestino Gasca Mexico


We arrived here yesterday afternoon after a relatively uneventful drive through Mazatlan, the only hitch was being detoured off Mex 15 into some neighbourhoods as a result of some problem.
It's quiet here, on the way in a fellow gringo stopped us and indicated the PSM was empty and suggested that Celestino RV park would be a better option. We like PSM so we headed here, turns out it's quiet in all the parks here except for Tortuga which seems to have 5 or 6 campers (it has spaces for about 8). There were 4 of us here in PSM last night and two or three more than that in Celestino RV park. I'm not sure about Villa Celeste as you can't really see into the park from the road.
We are settled in, we will stay tonight and head out tomorrow morning.
An update on the violence in Mazatlan, our friends from Teacapan Charlie and Pauline went to Las Jaibas in Maz last week and they were 3 campers away from the camper where the Calgary gentleman got shot, they are obviously shaken by the incident. They pulled their camper out onto side of the road (for safety reasons) after the incident (it happened just before midnight) and left early the next morning. They have indicated that they will never return to Mexico again. In addition, the couple that were robbed at gunpoint in February south of Escuinapa were also in Las Jaibas at the time of the shooting. That will make two fellow Canadians that Mexico will lose as tourists. We haven't decided what we will do next year as there still is time to decide, but we are leaning towards not returning. It used to be that the violence was limited to druggie infighting but now tourists are vulnerable, it's sad. I'm not sure exactly what we contribute to the economy down here but I estimate that we spend between 7 and 10 thousand dollars per season directly into teh hands of the locals, so they will feel the effect. The last two years have seen the numbers of Americans come drop to a trickle, the loss of Canadians will be devastating.

Some pictures:

One thing that you notice in Mexico is how fast things grow. Below is a current picture of the campground, below it is a similar picture taken 3 years ago when the park first opened, a bit of a moonscape: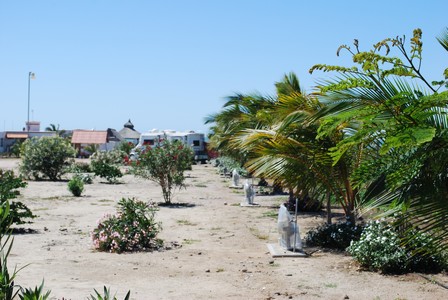 The RV isn't in quite the same location as before, but close. It's also a different RV! Unfortunately, the weeds in the gravel also grow.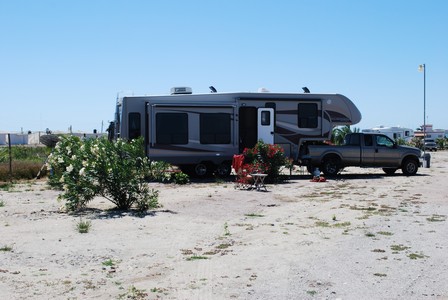 The flowers between each campsite are hand watered but the palm trees on the side are served by a watering system: