A new web page documents our travels heading back to home. To view the page click here!


---

Saturday March 6, 2010

Starting the packing process


Today we started to pack up items in preparation for our departure on Monday. After being here for a month, almost everything has been taken out and used so it's good to start the packing process early. Another reason is that we are always busy saying our goodbyes to the campground folks on the day of departure so having a minimum of work to do on Monday morning will be a good thing.
Before starting the process, I took a few pictures of the RV and the surrounding area: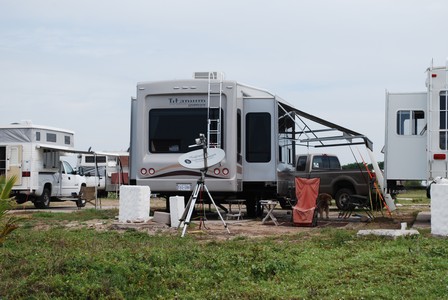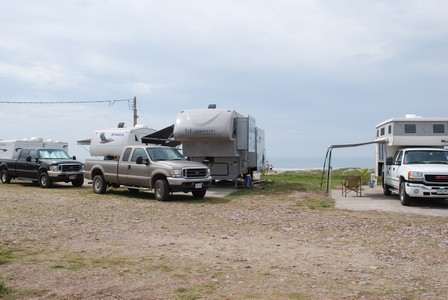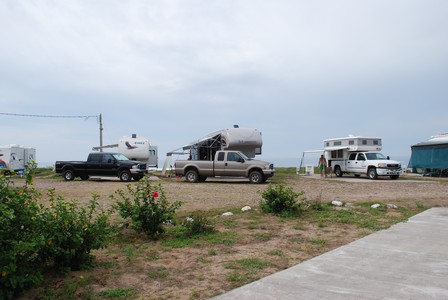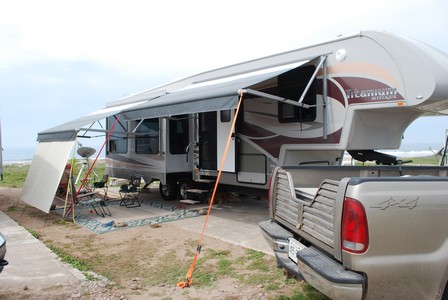 There are lots of comments on the Mexican web forums following the shooting of a Canadian RVer at Las Jaibas RV park in Mazatlan a couple of days ago, it's been a bit violent in Mexico this winter. Hopefully things will settle down a bit, if they don't a number of gringos won't be coming back down next winter, it will be tough for the Mexicans that rely on our tourist dollars.
---

Thursday March 4, 2010

Kasey is a Happy Camper!


Last night I took Kasey with me up to the airport at Mazatlan to Pick up Suzette, Suzette and Kasey had a joyous reunion (and Al's happy too!).
Today was spent relaxing and getting Suzette accustomed to Mexican time again. Kasey thought that he could trick Suzette into taking him for a romp into the ocean, he grabbed his beach ball and headed for the surf, but he was disappointed. His fungal infection needs to heal a bit more before he takes the plunge, he might get a dip before we leave for points north on Monday.
After Suzette left Cornwall on Tuesday her father had an MRI done in Ottawa (there are no machines in Cornwall) and a tumor was found that is near his spine, that's what is causing the paralysis, it wasn't as a result of a fall. Decisions will be taken regarding radiation or chemo. He remains in good spirits in hospital and we will see him again upon our return to Canada.
It was nice to renew acquaintances and spend happy hour with Steve Smith, we've met him in the past here in Mexico. He is staying at Villas Onac for a couple of weeks.

There is a protest occurring on the Mex 15 toll road between Mazatlan and Culliacan. Some locals are protesting the expropriation of their land for construction of a dam, their fields and homes will be flooded when the dam stops the water flow. The Mex 15 toll road is closed in the northbound direction and traffic is taking the free road, apparently it's quite busy. We are hoping that the protest is cleared by next week when we head in that direction.

---

Monday March 1, 2010

The Exodus Begins!


Today is the start of the official exodus to the north. A number of transients have come into the park in the past few days, they stay a day or two then head north. In addition four or five regulars left today including our neighbours Charlie and Pauline.
Charlie is a very young 75, this year he set a personal best time of 59 minutes from the park to Teacapan and back on his mountain bike, a distance of over 14 km.! Unfortunately, I think that this is the last year for Charlie and Pauline here in Mexico.
We normally leave today as well, but we will hang around for another week, I pick up Suzette at the airport in Mazatlan on Wednesday. We will stay for another few days to let her de-stress. Suzette's father is doing OK in hospital, MRI's are still being scheduled to find out exactly why he is paralyzed. We expect to see him in April when we return home to Ontario.
Kasey is still doing well but he misses Suzette. I'm doing the "poking and prodding" instead of the vet, today he got his daily medication for he fungus infection and his monthly treatment for fleas and ticks. I'm looking forward to both Kasey's and Suzette's reactions when they meet on Wednesday!
---

Saturday February 27, 2010

The Tsunami Advisory and the Vet!


An interesting day, I awoke to the news that as a result of the Earthquake in Chili there was a potential for a tsunami. The park folks here, being well connected spread the news and people looked to the net for information. Since we are about a meter (at most) above sea level and have an estuary all around us it would be a problem if any size wave approached. A number of campers here decided to go inland and enjoy a breakfast/lunch and return after the wave went through. Although it wasn't planned as a tsunami defense, I had to take Kasey to the vet in Escuinapa anyways, that was my "escape plan".
The tsunami was a non-event, no wave changes were noted by the folks that stayed around, but it does point out the importance of being connected and aware of what's happening in the world around you, I'm sure that few of the locals were aware of the situation and there to be no facility to warn them that I'm aware of.

Speaking of the vet, Kasey had to go and get checked out for what I thought were hot spots, something that he has had in the past. A redness and oozing appears on teh skin and he starts scratching. This time the symptoms appeared under his chin, so the vet shaved him in that area and applied some medication (as well as some on his back). In addition I had his anal glands looked at and got at least a 3 month supply of flea and tick treatment (ticks are bad down here right now). Add to that medication and cleaner for what turned out to be a fungus problem, and medicated shampoo. Apparently the fungus is a common problem down here because of the high humidity (85%+RH), it certainly didn't help that Kasey was in the ocean every day and his coat took virtually all night to dry out.

All of the above cost about $120. C$, probably a quarter of a similar vet visit in Canada, it included over a half hour of vet work (no sloughing it off on technicians!) and a detailed explanation taking him 15 minutes to explain what he did and why.

A number of the Canadians get all their vet work done down here because of the quality of care and the cost savings.

Anyways, Kasey is on the mend, his biggest beef will be that he won't be in the ocean for the foreseeable future!


---

Thursday February 25, 2010

Playing the Bachelor Role!


I'm here by myself (with Kasey of course), I took Suzette to the airport at Mazatlan yesterday, her father was taken to hospital after falling at home, so she's back in Cornwall today to visit and provide support.
Kasey and I are spending some quality time together, we were on the beach earlier today, I found it's great to have a retriever, my Mexican hat blew off my head and went into the deep surf, Kasey returned it promptly. It's a game for him! We are enjoying our solo time together.
Depending what happens up north, Suzette may fly back down, either to Mexico or to Arizona. I start heading back north solo starting on Monday.
---

Wednesday February 17, 2010

Waiting out a rainy day


The weather has been unusual down here this winter, we are having another day of rain and clouds, it's one of a few this winter, very unusual for Mexico. We are inside the trailer watching the dolphins in the ocean successfully fishing. They have been quite successful, I guess overcast weather is a good day to fish.

One thing about a day when the weather is unsettled is that the sunset is colourful. Here is a picture of today's: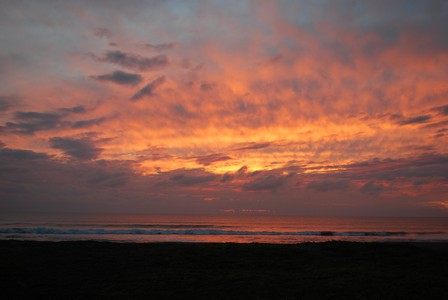 ---

Friday February 12, 2010

A great Lunch!


There is a restaurant in Teacapan that's an undiscovered treasure, its name escapes me, but it serves great food.
It's owned by a couple, the husband is from Japan and the wife is Mexican, they have 3 beautiful children. His Japanese cooking diplomas are posted at the restaurant, he cooks and his wife and children serve.
We went there last year, it looked basically like a take out with a picnic table or two in the side where you could eat. This year there are tables and a palapa to shade people from the sun. The last time we were there this year there was a menagerie of rabbits, chickens and a couple of cats to entertain us in the dining area, this time it was quiet. The food is fantastic! Al had a beef bowl (beef with rice and coleslaw), Suzette had her normal shrimp tempura and our guests had chicken, shrimp tempura and a pork dish, some of us had some spring rolls as well. Nobody tried the sushi, but it looked good on the menu.
The meals cost about 65 pesos each, for the five of us the bill came to just over 400 pesos which included cervesas for most of us and the spring rolls. All in all, an excellent meal.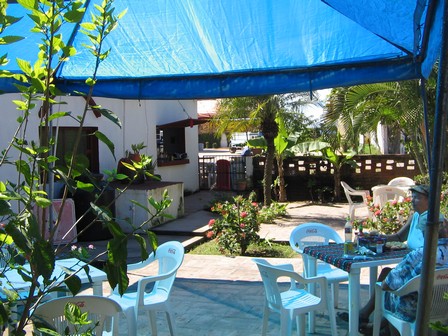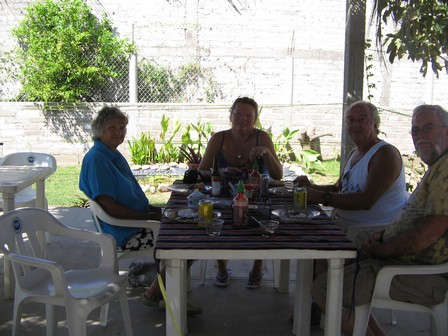 ---

Thursday February 11, 2010

More sunset pictures!


Today was overcast, but it started clearing in the afternoon in time for a relatively clear sunset. It's past 9:00 pm as I'm writing and as I took Kasey out for his last pit stop, the sky outside is clear with lots of stars, tomorrow should be a better day!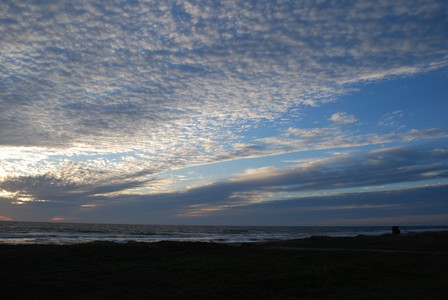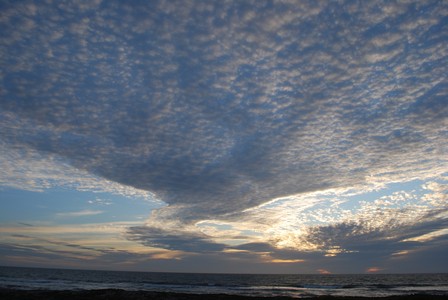 The jury's still out on the reported violence, apparently another 4 assassinations occurred in Maz yesterday.
---


Wednesday February 10, 2010

A Nervous Campground


A couple of recent events have made the campground a bit nervous.
Earlier this week fellow Canadians returned to the campground and reported that they had been robbed. They stopped a few km. south of Escuinapa to take some pictures and observe the birds in the estuary that goes from Teacapan out to the main highway Mex 15 (they were on the shoulder of Mex 15, the main north-south highway here on the west coast). When they stopped they were approached by a hooded man armed with a handgun and they were robbed at gunpoint, their money, jewelry and an expensive pair of binoculars was taken, the robber left their credit cards and their passports.

Today we learned of some violence in Escuinapa. Three people were killed gangland style in a town north of here and their heads were decapitated and left in Escuinapa near the food store that all of us go to on a weekly basis to do some shopping. Near the food store is a school. This is obviously a drug gang related settling of affairs but it hits "close to home" for us. It also didn't help that I read in today's local Mazatlan newspaper of 55 assassinations in Mazatlan since the beginning of the year (that compares to 7 murders in Toronto).

It's got some people here rethinking plans to return to Mexico next winter.


---
Saturday February 6, 2010

Enjoying the beach


We spent the day on the beach enjoying the sand and surf. It reminded me of why we enjoy this place so much

.





This is a picture of the beach with nobody on it, if you look carefully you will see a white dot, that's one of the campers here walking towards us about a half a mile away: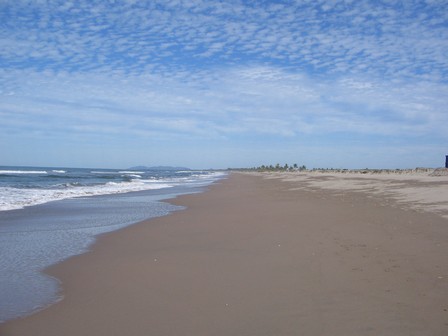 Kasey doing his usual ball retrieving: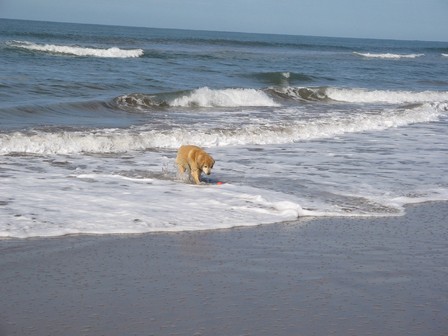 Sand Dollars are plentiful, Suzette has collected a few kilos of them, she just bagged another: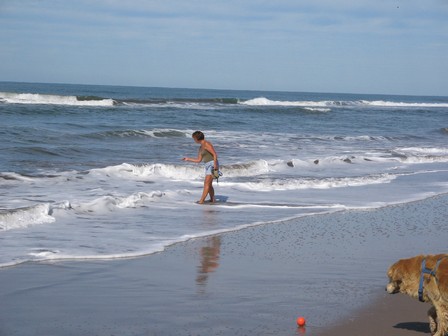 ---

Thursday February 4, 2010

Shopping and other stuff


Today we dropped into Escuinapa to shop at Ley and get some $$ out of the ATM. The morning was relatively cool so it wasn't tough on us or Kasey (who stayed home in the trailer). We made it up to him, he was in the ocean at least three times in the afternoon, the picture below shows him worn out around 5 pm: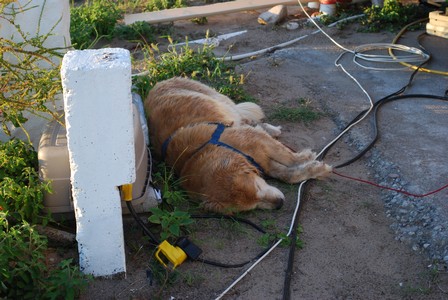 And no, we weren't trying to electrocute him, he just chose a spot out of the sun!
The rest of the day was spent setting the level on the sewer hose to ensure that there was a good enough slope so that the sewage material flowed from the trailer to the sewer
. As well, we did some more reading, the folks here exchanged a lot of books so we have a good supply of new material.

We couldn't resist taking some more sunset shots: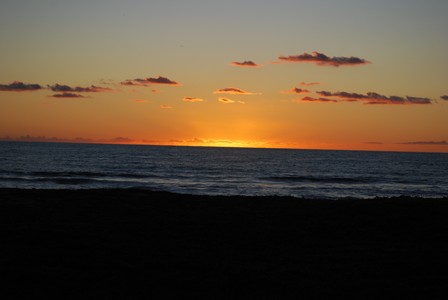 A shrimp boat out in the ocean, apparently not a lot of shrimp are being caught because there is currently a glut on the world market: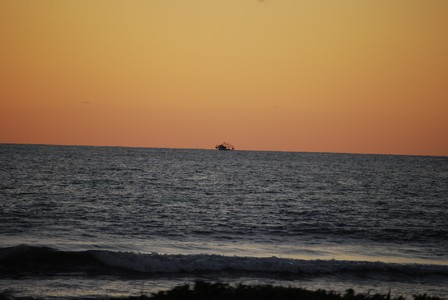 Who says we aren't well connected? Star choice is the most common sat dish down here, the large dish is for Direct TV or Dish network, the US services don't reach as far south as Star Choice does without a significantly larger dish. This dish is dis-assembled and stored down here between winter visits.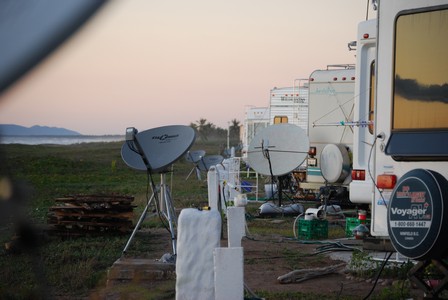 ---

Wednesday February 3, 2010

Monsoon Rains!


Last night we had over three inches of rain fall in the area, along with some heavy duty winds. A number of us were out retracting awnings and getting soaked in the process, unfortunately the camper next door lost their awning, it bent in half. A few others in the campground have rips in their awnings as well.
Today Gilles assisted me with Spanish as we took the Honda outboard into town to be repaired. It turned out to be a seized bearing on the main shaft caused by water infiltration past a bad seal. Gilles and Laura are spending a couple of days in Mazatlan and will visit the Honda dealer to see if parts are available, thanks Gilles!
After yesterday's blow, the day was spent re-erecting awnings and drying out chairs etc., the campground is gradually drying out!
---

Tuesday February 2, 2010

Back in Teacapan


We got back to Villas Onac yesterday afternoon. We brought the rain with us from the San Blas area, it started raining overnight and today it's been pretty much steadily raining all day. If you click on the weather information on this page it shows that it will be damp until Thursday evening, it should be sunny again on Friday.
It's nice to be back here, we are parked next to Charlie and Pauline and close to Gilles and Laura. This site is a bit narrower than the others here in the park, but it isn't a problem. We also have to play with the sewer hose routing, the sewer connection is high (and it's hard to push sewage uphill!) so Al went to the local hardware store and bought some 4 inch PVC sewer pipe, the hose should fit in the pipe, and the assembly should provide the proper slope for the sewage to flow to the drain. I could also have used the sewage pump that we carry but this is a better solution. The 6 meter pipe will be cut into smaller pieces for transport in the truck box when we leave.
It's also good to have our own 20 amp circuit breaker, three of us sharing a 30 amp breaker wasn't ideal back at Playa Amor. We can now run the water heater on electric and also the microwave when we need to without tripping the breaker and inconveniencing other people. Managing your own power is easy, guessing what others are using is more difficult!
I've been tardy in answering E-mails (sorry Dennis), the rain "downtime" will provide the time to correct the tardiness.


---

Sunday January 31, 2010

Last day in Playa Amor


Today we spent our last full day here, we packed some stuff so we won't have a lot of items to stow tomorrow morning before we leave. We want to leave early so that the temperature is still moderate during the drive, our A/C isn't working and we are thinking about Kasey. Tomorrow we head back to Villas Onac in Teacapan for the month of February.
Ron and Patty took us out for dinner at Casa Manana tonight, we had a great seafood dinner and we will miss Ron and Patty and all the other folks here. We also received gifts from others in the campground.
It's been an interesting week, with Marlies suffering a broken arm near the wrist on Monday and last evening we had another scary episode. A truck lost a drive shaft on the road just outside the gates of Playa Amor, a number of campers (myself included) went to the entrance thinking that there was a collision. One of the cars following the truck was driving too fast and couldn't stop in time, he locked his brakes and swerved towards us folks standing in the park entrance, he hit a local Mexican lady. I was one of the people that ran out of his path.
The lady was examined by Jerry, the fellow camper who is a doctor, fortunately she had only soft tissue injuries, no breaks. The response from the police (local, state and tourist) was quick, an ambulance showed up shortly after. The lady was taken into hospital in Tepic where she stayed overnight for observation, tonight she is back in the campground. It's amazing how your previous training clicks in, I was a track marshal in Ontario, I participated in races involving Can Am, Nascar and Formula One race cars, we were trained to watch and get out of potential accident situations and help injured drivers, that training helped me in this situation although I hadn't used it in over 40 years.

The experience left a few of us shaken (I didn't sleep well last night), but confident in the emergency response and hospital care in Tepic. For anybody down here, the emergency contact number (nationally) is 066, it's the Mexican equivalent of 911.


---

Tuesday January 26, 2010

Relaxation, but a couple of busy days!


We've been relaxing , but we also managed to have a couple of interesting days. Last Friday, Rudiger, one of our fellow campers celebrated his 70th birthday. His son and family have spent the last two weeks here in a nearby hotel and Rudiger invited the camp out to a local restaurant to help him celebrate. He was presented with a number of gifts and everyone enjoyed a great meal. Thanks Rudiger and Charlotte!
This picture shows the happy couple enjoying Rudiger's son toasting his birthday: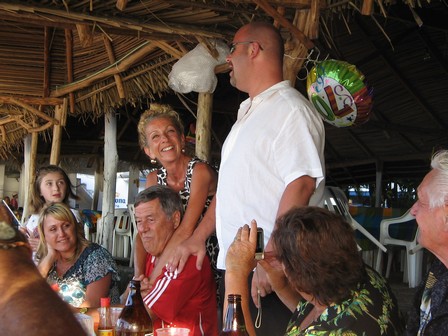 On Monday Al and Ron went to Tepic to shop for food, Al also picked up a web cam, so we are ready to Skype with our daughter back home.

This is a Google Earth image of the road from our camp location (designated 166) to the city of Tepic. It's a classic mountain road as you can see by the squiggles, it goes from seal level to 5,000 ft. in the 45 or so km. to Tepic: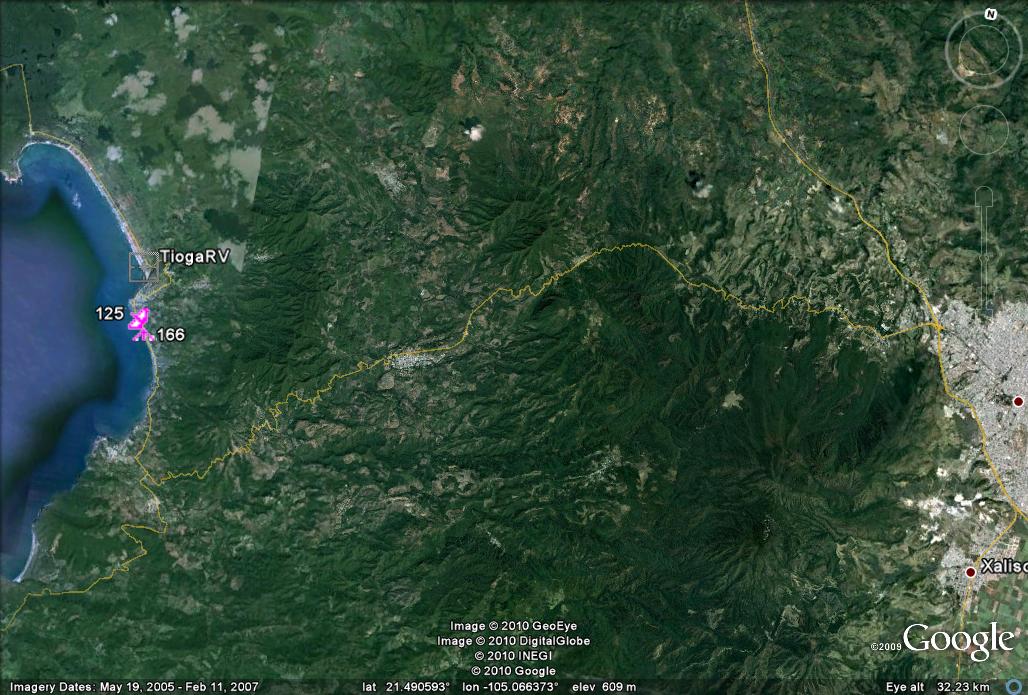 We got back to camp to learn that Marlies, a fellow Canadian camper broke her arm after a fall in camp. We are lucky to have a physician/surgeon and four nurses staying here so she was well looked after before heading to hospital in Tepic. The break turned out to require an operation with the installation of pins and a plate, this was done on Monday evening, she stayed in hospital overnight and returned to camp this afternoon. This is the second hospital admission from the camp, I'm happy to report that the facilities in Tepic match or exceed those back home. I hope we don't have to go to a hospital here, but I'm glad that good facilities exist!
Speaking of the doctor, it isn't often that we get a doctor to dog sit Kasey, Jerry offered to look after him while we took a morning "jungle boat" ride up the river to look for birds and animals. We had an enjoyable ride and we took a few pictures:
The river was very calm: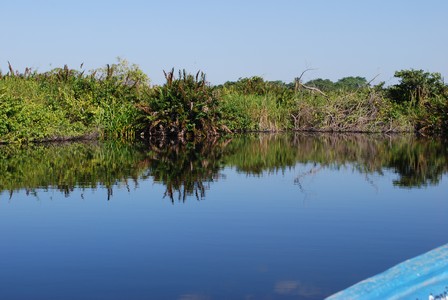 We caught a nice shot of a great blue heron, both sitting and in flight: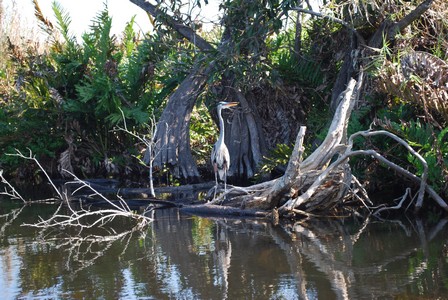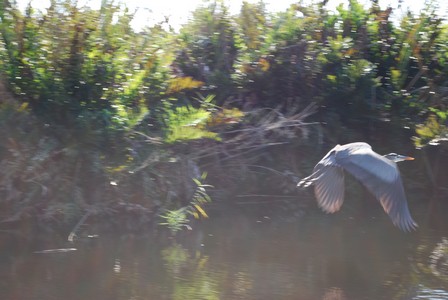 Some orchids growing near the shore: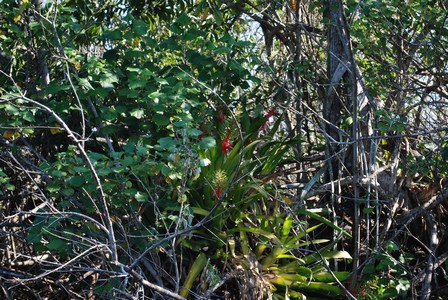 We saw some crocodiles small.......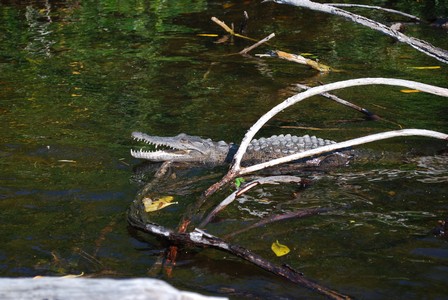 and not so small (this guy is 3 meters long), he's just at the shore line: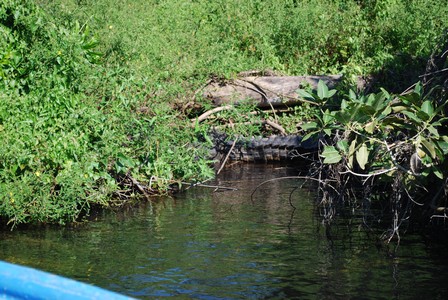 This iguana is sunning himself on the tree branch: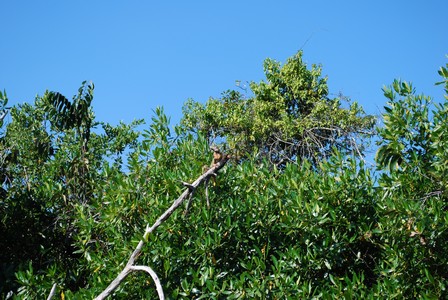 We returned to camp just before noon, and although Jerry wasn't looking to issue a doctors bill for Kasey's "consultation", we did "pay" him with a number of cervesas! Thanks Jerry
We have a couple more things to do this week, then we starting packing up to prepare for our return to Teacapan next week.
---

Thursday January 21, 2010

A trip inland


Our neighbour Leo offered to take us inland in his 4X4 Chevy Tracker, Ron and Al went along while Suzette stayed at camp with Kasey.
The Tracker performed impressively, it didn't even complain when rocks scored it's underside!
The trip took us inland on some farm roads up the hill to an impressive view of the San Blas/Aticama area. It's not quite as high as Tepic but our ears were cracking as we ascended the hills.
Some pictures:
Leo was even good enough to clean the windshield so we could take better pictures: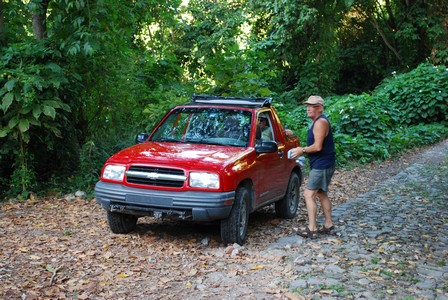 This is the view from the top showing the bay and the San Blas area:
Lots of different crops are grown here including bananas, avocados, oranges and limes. Here are some coffee beans ready for harvest (at least the red ones!). On the way back down we were given some avocados by a local farmer, we left him a tip for some cervesa!: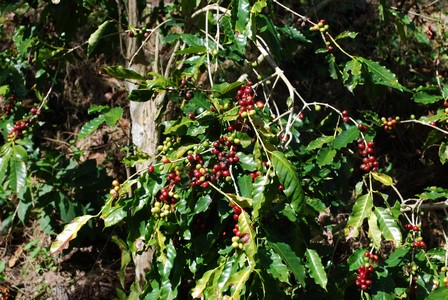 There were lots of great flowers growing wild: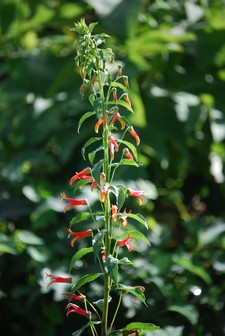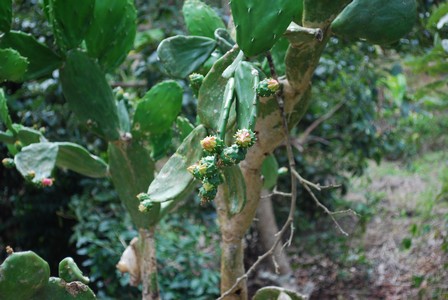 Another view of the scenery from above: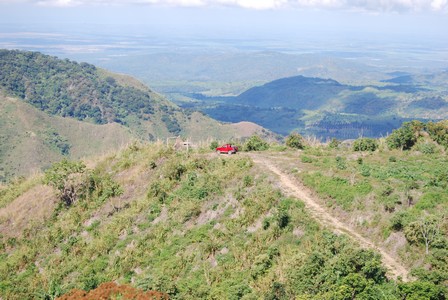 Some plantations in the distance: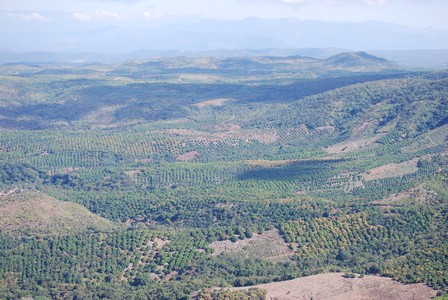 Another view of the San Blas area: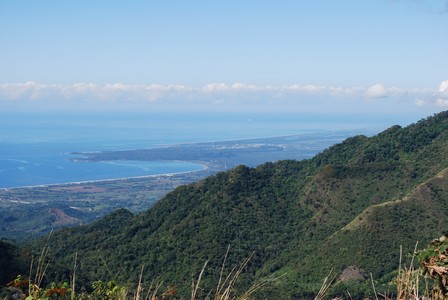 ---